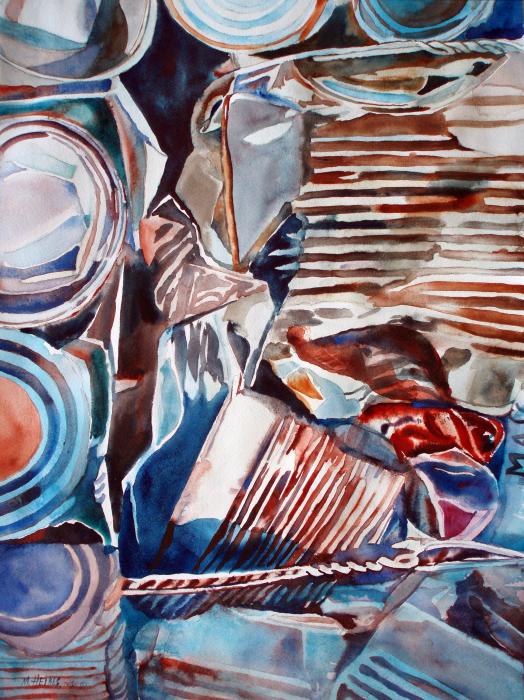 Metalscape 9
Watercolor
I've painted another design of the crushed and mangled cans that I viewed at the recycling center here in Centerville. I find the abstract metal shapes fascinating and have to simplify the elements as there are too many details within each can.  In this design, the round bottoms "frame" the larger can with ridges and the wire that binds the crushed cans together adds interest and repetition of the compositional elements. This painting is done with a limited palette, blues and siennas, which adds to the harmony of the watercolor design. I also worked on strengthening the value contrast using thalo blue, ultramarine and cerulean.  I feel the end result is quite successful and I'm contemplating the next crushed can in this series — the possibilities are endless!
Want to Buy It?
Format
Size
Price
Original

13 ½″ × 20 ½″

Soft gold metal frame (23" x 31") with white and light gray mats.

Print

8″ × 10″

Actual image size is 6.59″×10″.

Print

11″ × 14″

Actual image size is 9.22″×14″.

Print

16″ × 20″

Actual image size is 13.17″×20″.
*Frame and mats not included unless noted. Shipping costs are for the continental U.S. Ordering help & policies.