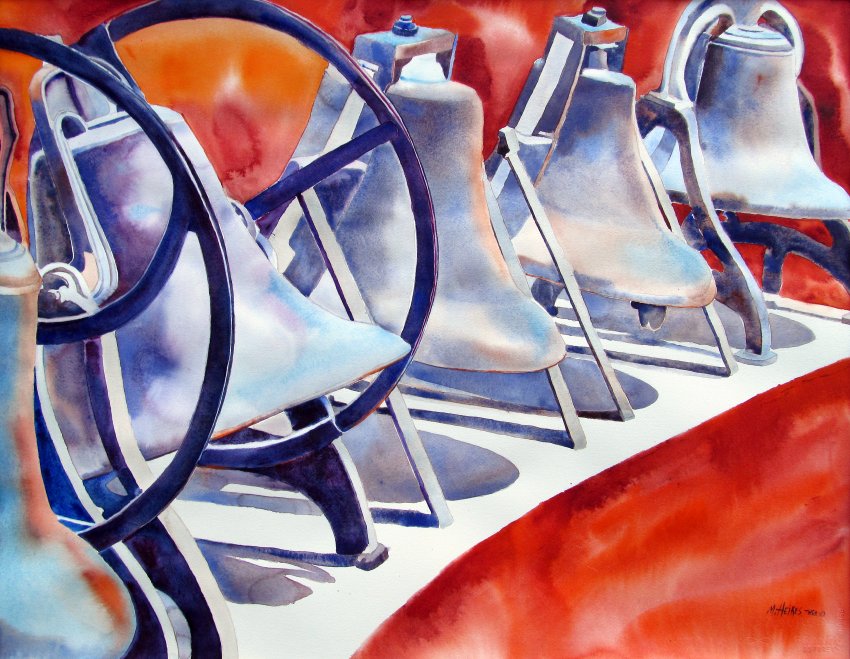 School Tyme
Watercolor
This piece was inspired from a charming display of old school bells. I visited the Prairie Trails Museum in Corydon last year and I snapped a few photos I thought were inspiring and possible painting subjects.
After designing and cropping my photograph, I decided to use a limited palette of complementary colors to emphasize the largeness of the subject matter. Design is most important to me, then the shapes and value patterns. The curving sidewalk leads the eye into the picture. The bells are a mixture of either cobalt, ultramarine and thalo blues with the orangey red background. I edited parts of my photo and simplified the shapes.
I enjoyed painting this piece and plan to enter it in national juried competitions. It took me a little longer because it is a full-sized sheet of watercolor paper and I layered the washes to intensify the value patterns.
Want to Buy It?
Format
Size
Price
Original

Silver metal frame (36" x 28") with single white mat

30″ × 22″

$1,200.00

|
Print
8″ × 10″

$20.00

|
Print
11″ × 14″

$30.00

|
Print
16″ × 20″

$45.00

|