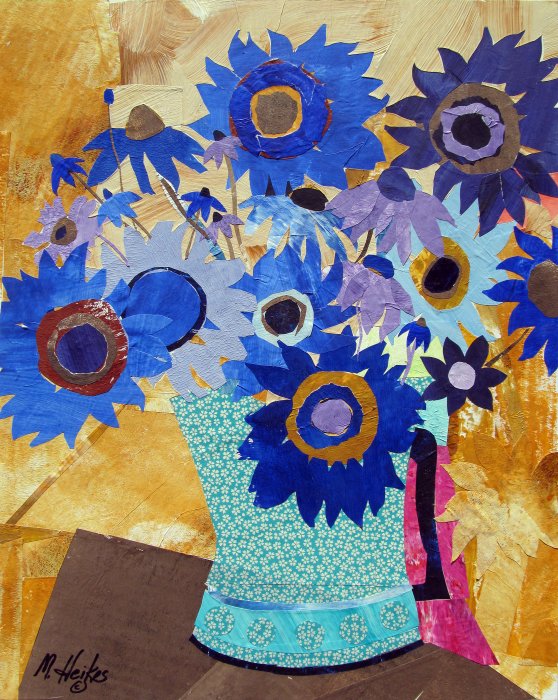 Blue Palomino Bouquet
Acrylic collage
My inspiration for this acrylic collage were the beautiful flowers, and the challenge of continuing my monochromatic theme from a previous artwork. I used one of my reference photos of my garden flowers in Centerville, and created a sketch from the photo in the actual paper size. Occasionally I will create a small thumbnail, but I prefer working on the actual support size of the finished work.
I experiment with colors and take time to think about the design and composition before beginning. This frees my mind. I do not copy my sketch — it is a springboard of sorts. I select the colors from my pre-painted palette of colors and cut big shapes with an X-acto knife and arrange them on the surface of my support. I use a glue stick to temporarily adhere them to the support — shapes are rearranged and edited as I work the whole painting. This evolves over a period of time; this particular piece took me a month to complete. This collage is successful in both color and design and I am very pleased with the final painting.
Want to Buy It?
Format
Size
Price
Original

16″ × 20″

White metal frame (20" x 24") with no mat

Print

8″ × 10″

Print

11″ × 14″

Actual image size is 11″×13.75″.

Print

16″ × 20″
*Frame and mats not included unless noted. Shipping costs are for the continental U.S. Ordering help & policies.