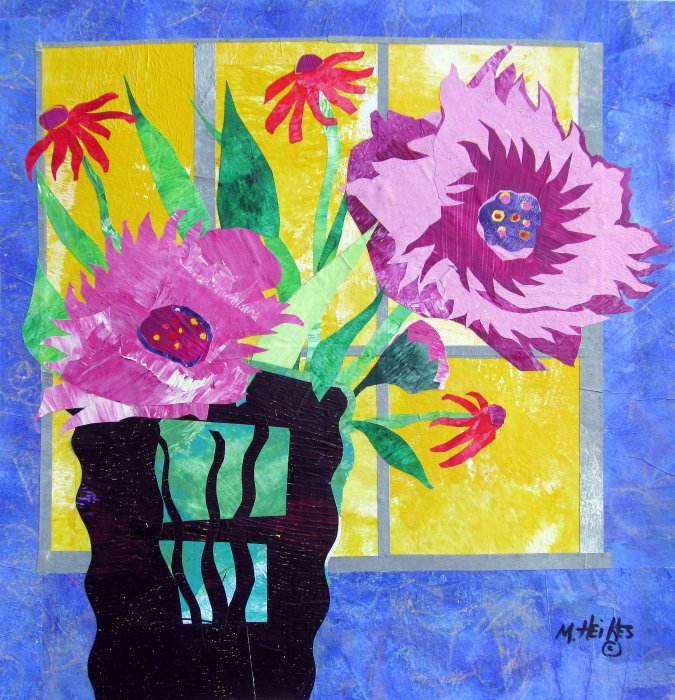 Spring Fling
Acrylic collage
Lately I seem to be inspired with flowers. I enjoy their bright colors and varieties that are endless! I actually began by sketching a big bouquet of pink cosmos after Christmas. The pink, magenta and red-violets always inspire me to pick up my paintbrush, dip it into the vivid colors and paint the floral shapes!
After beginning this design, I found it was not to my liking. I edited the shapes and redrew the composition. I originally thought this would be great as a watercolor painting, but while sorting through my acrylic collage papers, I changed course. I was particularly interested in one shape — a blue-black piece with window cutout shapes in it. That was the springboard for my new design. Usually I begin with the flowers and work my way around the design. This one was different — the vase was the focus. I changed the peonies to dahlias; the shape reminded me of the full, spidery petal shapes. I used my X-acto knife to cut the shapes out, just free-form blossoms, and kept them simple. Red-painted daisies were added to the bunch.
While gluing these shapes I decided to add a window, to echo the window shapes in the vase. I chose bright yellow for these geometric shapes. Stems and leaves were cut out and I rearranged them until a pleasing design evolved. I loved the brilliant pink and crimson shapes and was thinking about how to finish the design. The edges were uneven and I had a brainstorm to make a new "wallpaper" design for the borders. Wanting to add a textural element, I scribbled with various oil pastels on my paper first and then put on a wash of ultramarine blue. This did the trick! Using tracing paper, I cut out the border strips and tacked them into place. The initial shapes were tacked on with a glue stick so I was then able to shift the background shapes behind the flowers and glue those first and then work forwards to the essential shapes of the bouquet.
Want to Buy It?
Format
Size
Price
Original

15″ × 16″

White wood frame (20" x 21") with white mat

Print

8″ × 10″

Actual image size is 8″×8.53″.

Print

11″ × 14″

Actual image size is 11″×11.73″.

Print

16″ × 20″

Actual image size is 16″×17.07″.
*Frame and mats not included unless noted. Shipping costs are for the continental U.S. Ordering help & policies.