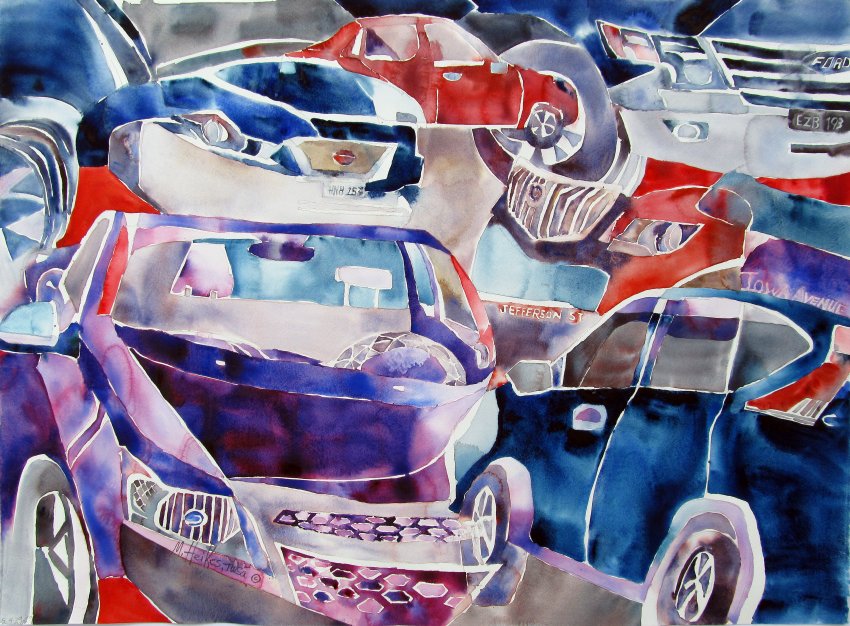 Traffic – Jefferson St.
Watercolor
I have been inspired to paint vehicles because of the interesting shapes and details that make them unique. Many years ago I began this series, and I decided it would be great to do another new composition.
The method I use is to draw the shapes from life; that is, to sit inside my vehicle in a parking lot and start drawing. Nothing is planned — it is a casual design and a challenge, because once I begin drawing and a car might leave, so some of the vehicles are partially drawn on the paper. I just continue with another car and keep drawing anywhere on the paper, overlapping shapes.  The design is a montage of interesting parts of vehicles: bumpers, lights, grills, windshields, etc.
I love the challenge of not knowing how the design will work out until I begin painting the shapes. It is also awkward to sit inside a vehicle with a large board and a 22 x 30 piece of paper on your lap. But I prefer working from life instead of photographs. I began the watercolor painting in my studio and chose the dark blue of the car in the lower right foreground. I worked my way around the paper and used a limited palette of colors: blues, reds and grays.
Want to Buy It?
Format
Size
Price
Original

30″ × 22″

Metal frame (36" x 28") with white mat

Print

8″ × 10″

Actual image size is 7.33″×10″.

Print

11″ × 14″

Actual image size is 10.27″×14″.

Print

16″ × 20″

Actual image size is 14.67″×20″.
*Frame and mats not included unless noted. Shipping costs are for the continental U.S. Ordering help & policies.