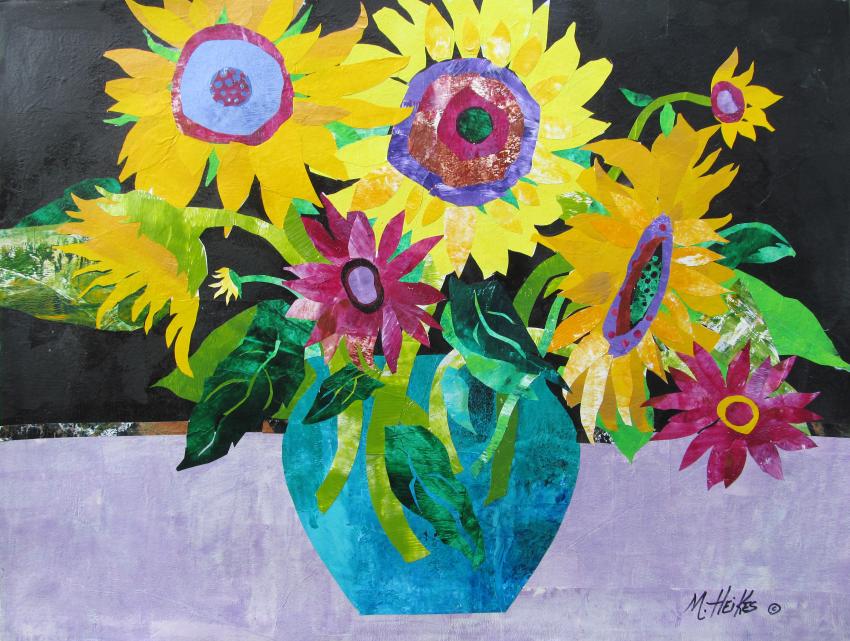 March Bouquet – Green & Gold
Acrylic collage
The inspiration for me is the challenge of working in a series of sunflowers. This series makes me consider how many ways to design a fresh and interesting collage worthy of this bold and beautiful flower. I never tire of drawing these large blooms and all their interesting details.
Typically a bouquet "fits" better in a vertical format, but I have done bouquets on commission horizontally because it fits the wall space for the client. I grow different varieties of sunflowers each year in my garden and sketch them from life. I also take reference photos but I find drawing them from life captures the essence and character better than working from a flat photo.
I begin by laying my sketches close to the support where I work — a large flat table. For this design, I began choosing my hand-painted papers from a variety of different yellows. From the beginning I wanted to compose the background with a deep, dark value of either indigo or black. I do not copy my sketch but use the elements of design, varying the shapes of each flower and placement on my support. This piece was glued with acrylic gloss medium on a heavy 300-pound watercolor paper.
Collage is very forgiving and I edit as I work. During the process, a mat is placed around it to view the composition and make necessary changes. This method of working continues over a period of days, and sometimes longer because I usually have at least 10 works in progress all the time. I alternate working in acrylic collage and traditional transparent watercolors. I feel this keeps both my medium content fresh and exciting. It is a good idea to allow the painting to sit and for me to contemplate any changes that need to be done. Some of my painting inspiration comes from artist David Millard, who said an artist must fight finishing a painting and have lots of artwork in progress. I have found this to be good advice.
Want to Buy It?
Format
Size
Price
Original

30″ × 22″

Black metal frame (35" x 29") with white mat

Print

8″ × 10″

Actual image size is 7.33″×10″.

Print

11″ × 14″

Actual image size is 10.27″×14″.

Print

16″ × 20″

Actual image size is 14.67″×20″.
*Frame and mats not included unless noted. Shipping costs are for the continental U.S. Ordering help & policies.