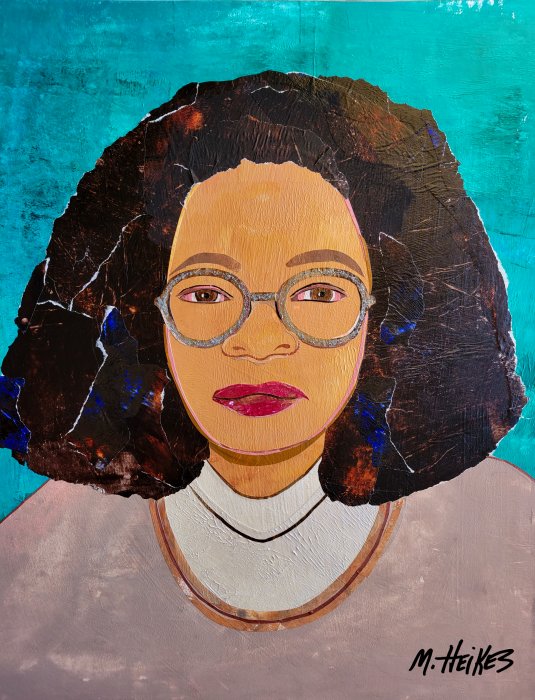 Oprah Winfrey
Acrylic collage
This portrait is part of my Black History collages that I began a year ago. I chose to paint Oprah because she encourages people to read more, and I think that is very important.
I began this portrait with a drawing, the underlying structure of all my work. While I draw, I think about colors and shapes, the features that interest me, and also achieving a likeness. It was a challenge for me to use more earth tones such as umber, siennas, oxides and ochres. Those are not usually predominant on my palette. After sketching out the features and planning colors, I painted specific skin tones that I thought would best fit Oprah's colors. For the skin tones I wanted a smoother texture and used a variety of colors. The background, hair and clothing have more texture and patterns in the pigments. I added sparkles to her glasses to complete her vibrant personality.
Want to Buy It?
Format
Size
Price
Original

16″ × 20″

Black wood frame (20" x 24") with white and gray mats

Print

8″ × 10″

Print

11″ × 14″

Actual image size is 11″×13.75″.

Print

16″ × 20″
*Frame and mats not included unless noted. Shipping costs are for the continental U.S. Ordering help & policies.