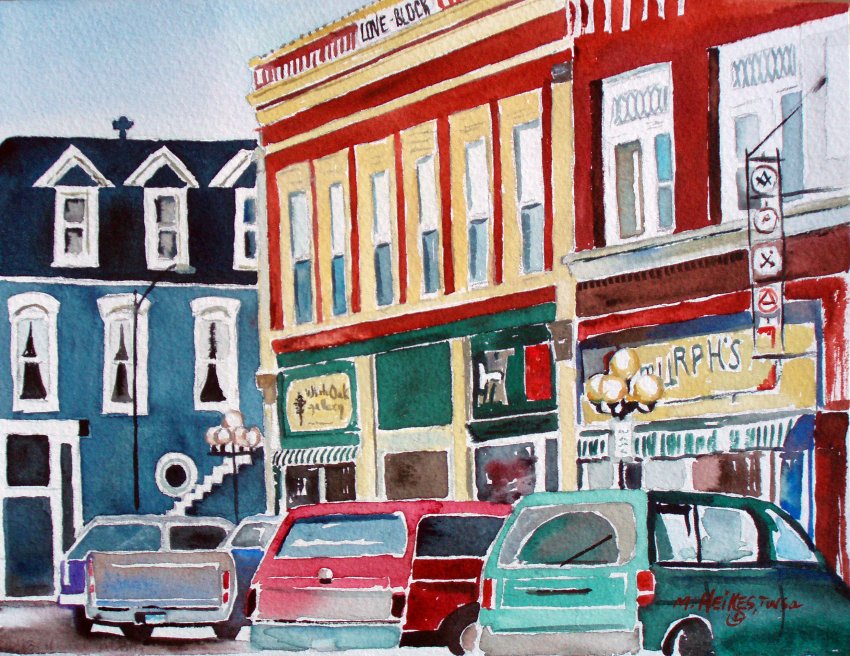 The Love Block
Watercolor
This is a partial view of the west side of the Albia square storefronts.  Having lived in Centerville for a number of years, I've been interested in small towns and their changing businesses and old buildings.  We drive through this quaint town numerous times and I snapped a few pictures for reference.
What caught my eye were the shapes and red and green colors.   Usually the signage attracts my interest too, and while painting it I noticed the name "Love Block" at the top of one of the buildings.  Many times there is a date on top from when they built it, or a name.  As times are changing, with the move away from rural towns, I chose to document these buildings and remember that life once revolved around them.
Exhibited in "Less Is More," Small Works in a Great Space; The Mitchell Gallery, St. John's College, Annapolis  2013
Want to Buy It?
Format
Size
Price
Original

8″ × 6″

Framed in Gold Ornate wood (9 1/2 x 13 1/2) with double mats.

Print

8″ × 10″

Actual image size is 7.5″×10″.

Print

11″ × 14″

Actual image size is 10.5″×14″.

Print

16″ × 20″

Actual image size is 15″×20″.
*Frame and mats not included unless noted. Shipping costs are for the continental U.S. Ordering help & policies.