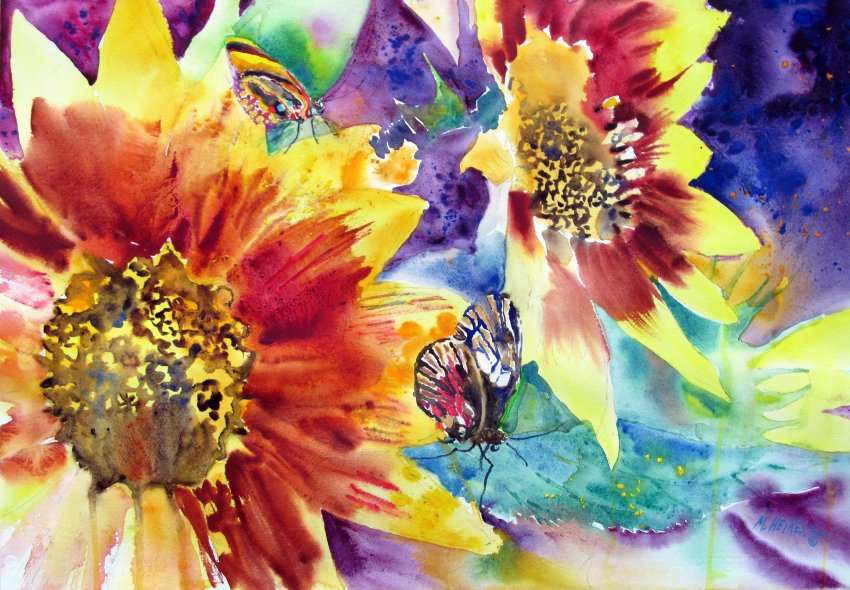 Winged Wonders
Watercolor
Sunflowers are still an inspiration for my art. The sunflower sprouts are still coming up in my garden now, so I am working with a photo taken last year. In addition to the two large blossoms, I have added a couple butterflies seen at the Botanical Center and Butterfly Center in Ames. They were both incredibly bright, with black dividing the various color patterns. I think they add interest and life to the sunflowers.
I  have also added some watercolor crayon bits and pieces into the wet pigment while painting. These melted and blended nicely. Some were blurred with my fingers.
Want to Buy It?
Format
Size
Price
Original

22″ × 15″

Oak wood frame (28" x 22") with single white mat

Print

8″ × 10″

Actual image size is 6.82″×10″.

Print

11″ × 14″

Actual image size is 9.55″×14″.

Print

16″ × 20″

Actual image size is 13.64″×20″.
*Frame and mats not included unless noted. Shipping costs are for the continental U.S. Ordering help & policies.