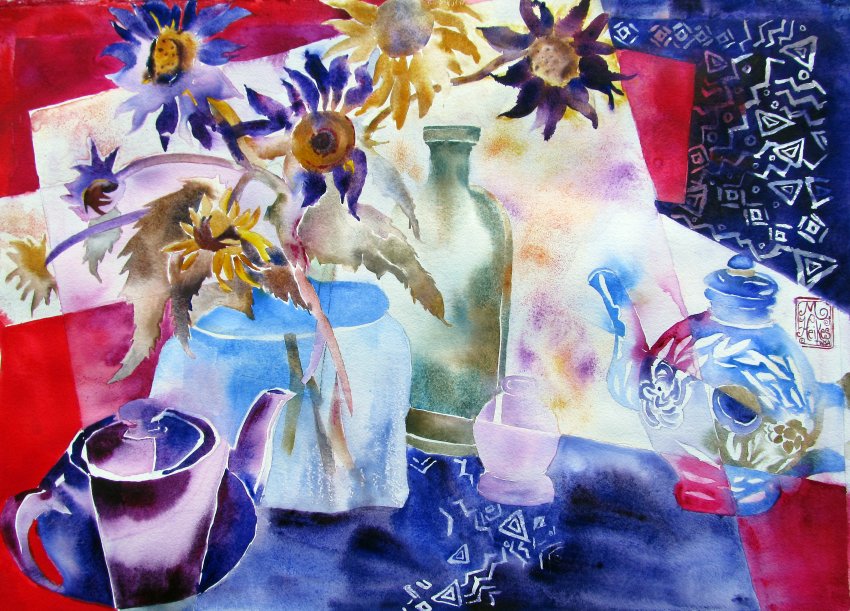 Teapot Series #21: Sunflowers & Bottles
Watercolor
My inspiration for this still life were the shapes, colors and fabric patterns. My goal was to paint the essence of the still life and use a fractured cubist style picture plane. For this composition I combined a few of my sketches done previously from life. Sometimes I use my photographs, but I prefer to work from life using the actual flowers, vases and other objects that make up the design. An artist gets more information working from life than from using a photograph.
Sunflowers are one of my favorite flowers and I grow them every year in my gardens. They have wonderful shapes and colors and I have found many different varieties to grow. I also have a large collection of vases and bottles that I use to display these bold and colorful flowers. They are a delight to draw and paint!
Drawing gets my creative juices flowing. This also give me time to think about what else to add to the composition; colors to use and possible title ideas. I like to set up the objects in a casual manner instead of a classical format. It allows more creativity and my aim is not to copy it realistically but to encourage happy accidents and not have a fixed idea of the end result. This can be scary not knowing exactly what you will end up with.
While I am painting, I try to connect shapes and use lots of water to encourage pigments to mix and blend on the paper instead of using premixed colors. The mixtures are always surprisingly and give the painting a loose, painterly quality which is what I love about the medium. I began painting the sunflowers first because that is what attracted me to the composition in the first place. Next I worked in the tall, antique bottle and worked my way around the design. It evolved very slowly and took me over a month to paint. The final touches were the sprinkled bits of colored pencil worked wet-in-wet into the background.
Want to Buy It?
Format
Size
Price
Original

27 ½″ × 20 ½″

Silver metal frame (32" x 26") with single white mat

Print

8″ × 10″

Actual image size is 7.45″×10″.

Print

11″ × 14″

Actual image size is 10.44″×14″.

Print

16″ × 20″

Actual image size is 14.91″×20″.
*Frame and mats not included unless noted. Shipping costs are for the continental U.S. Ordering help & policies.