Mahaska County Barn
August 4, 2008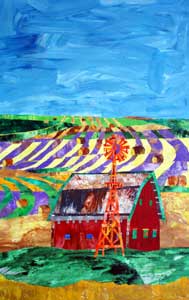 I spent the blistering hot and humid weekend finishing my newest barn collage. For this piece I used a photo of a barn in Mahaska County with a windmill and added rolling hills and hay bales in the background. It's always difficult choosing colors, as each hue will determine the alternate colors next to the previous ones. I began with the barn in red as the center of interest and used complementary colors for the patterned hills. But then I decided to paint the sky-shape with a brush,instead of using my hand-painted papers — it was too distracting with the textures. I like the contrast of brushstrokes with the textured papers.
Today I changed a bit of the roof colors, using some green outlines to make it stand out from the landscape. I also fiddled more with the windmill, using more reds and yellows for that structure. I'm quite pleased with the results.
I also cut a fresh bouquet of fuschia and white gladiolas, fire-engine red petite sunflowers, and violet cosmos yesterday and plan to do an impressionistic watercolor of it at a later date.