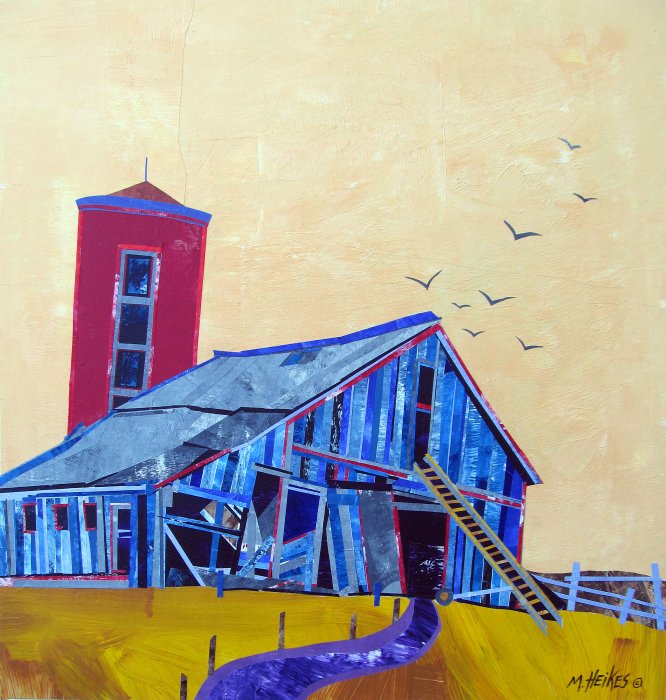 Blue Barn, Van Buren County, Iowa
Acrylic collage
I am continually interested in old barn structures, and I photographed this one in Van Buren County, Iowa. I was on my way to the Bentonsport Artisans Co-op and this barn appealed to me, with the tilting brick silo and torn roof. I had driven past this barn a number of times and decided one day to stop and take reference photos. It may not be standing in the future, as there are many broken and twisted boards on it; obviously it's not taken care of. Also, the silo is in bad shape and a piece of roof is on the ground.
I always begin by doing a few sketches from my pictures to strengthen the design, editing the shapes and thinking about colors that will make the design "pop." It is not actually a blue barn — I used artistic license to spiff up the color and add some brightness to the composition. The placement of shapes takes me a while and I think about how to make it different and unique from my previous barn collages. I hand-paint my collage papers ahead of time and have a good supply of colors in stock. If I need a color and don't have it, I stop to paint it. It takes overnight to dry because the acrylic colors I use are very thick.
Once the colors are decided, I pull what I need from my shelf and begin gluing the shapes on either a 300 pound watercolor paper or tempered hardboard. For this collage, I used the latter. The hardboard does not buckle, and that is why I chose it for my support for this piece.
I chose a light value pale yellow orange for the sky to contrast against the dark blue barn. Sienna and iron oxide red were used for the silo. The foreground color was painted with a bristle brush for texture, instead of my usual brayer.  Some birds flying in the distance adds interest. They are a common sight in the landscape. The end result is a successful Midwest landscape collage with strong design and textured colors.
Want to Buy It?
Format
Size
Price
Original

28″ × 28″

Brushed aluminum satin frame (36" x 36") with white mat

Print

8″ × 10″

Actual image size is 8″×8″.

Print

11″ × 14″

Actual image size is 11″×11″.

Print

16″ × 20″

Actual image size is 16″×16″.
*Frame and mats not included unless noted. Shipping costs are for the continental U.S. Ordering help & policies.