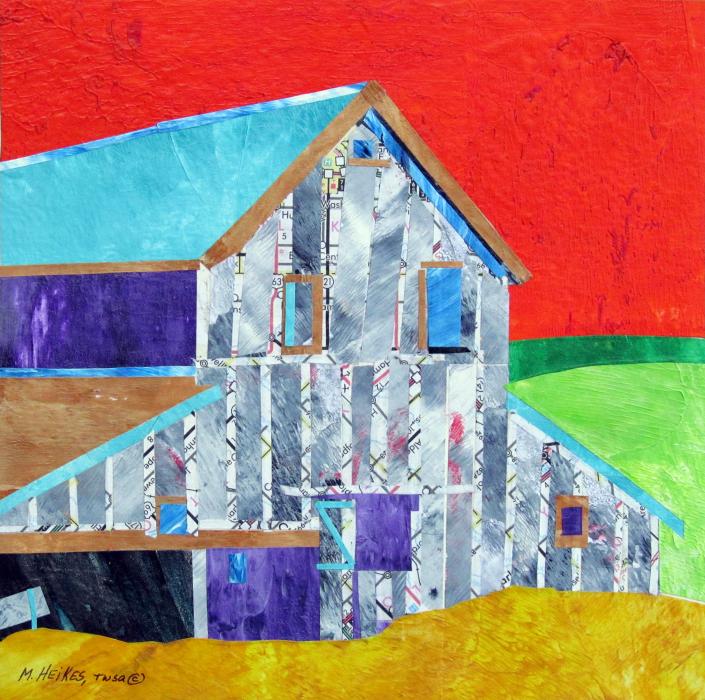 Iowa Gray Barn
Acrylic collage
Working from my old photos, I pieced together these barn board shapes in gray-textured, hand-painted papers against a vivid red sky. I liked the shed extensions on both sides of the barn and used turquoise for the roof — bringing in the complement color of the sky to make it "pop".  I could not resist adding more green for the foreground.  The design is most important to me, along with the bright, bold colors of the textured acrylic papers. I cannot achieve this with watercolors, my main medium. I also prefer the square format for these barns, although I've done a few in rectangular sizes. My secondary intent is to capture an expressive structure of these disappearing characteristic barns.
Want to Buy It?
Format
Size
Price
Original

8″ × 8″

Mahogany wood moulding (14" x 14") with double mats

Print

8″ × 10″

Actual image size is 8″×8″.

Print

11″ × 14″

Actual image size is 11″×11″.

Print

16″ × 20″

Actual image size is 16″×16″.

Notecard Set

7″ × 5″

Package contains 6 designs of your choice on folded cards. Actual image sizes vary. Blank inside. Envelopes included.
*Frame and mats not included unless noted. Shipping costs are for the continental U.S. Ordering help & policies.