Quarter Horses
September 4, 2008
Today's another rainy day of catching up on framing. I finally finished the latest Iowa collage, Quarter Horses. The barn picture I used was one taken on highway T61. The barn was almost gone — boards falling off and big holes in the roof. I paired the barn with a picture taken of quarter horses a couple years ago, I forget where. I thought it was a successful design — I have lost track of how many southeast Iowa barn motifs I have done. It got me to thinking of painting more collage papers wet-in-wet without heavy textures and will try this the next time I get the acrylics out.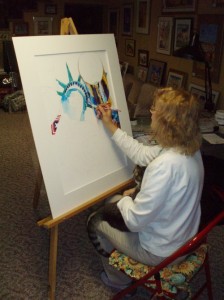 Tuesday this week I began the next glassware design, Lady Liberty. It is a full sheet watercolor and I'm working with it upright on an easel instead of working flat on the table. I love the dynamic design of the the fractured glass patterns and warm-cool color combinations, especially the blue-greens, purples, and golds.
Tomorrow I'll choose paintings and collages for display at Ottumwa's festival and pack up the van and head out early Saturday morning. See you there!