Walk On Farmers Market
September 10, 2009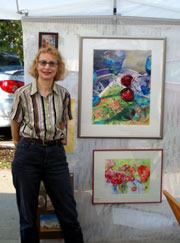 Hello!  Thank you all for coming to Ottumwa's Walk On Art Street festival last weekend — the weather was perfect and art lovers were out in full force!  I enjoyed talking with old friends and meeting new ones.
I  was undecided what artwork to bring with me, so it was half glassware still lifes and the rest acrylic collages. Thanks for the wonderful comments too!  "Lots of bright cheerful colors" is what I heard a lot. And I've been busy in my studio painting up a storm. My newest is the triple sunflower bouquet.  The green & blue striped fabric was purchased at the Des Moines Farmers Market last month — and was surprised that the cloth matched my summer pajamas! Somehow I was attracted to the pattern and colors, since I knew they would look good with the blue goblets. And if you look closely, there is a hidden Siamese kitten in the painting. Somehow Fiona always makes sure she'll get a lot of attention.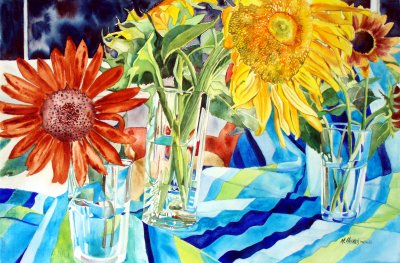 Also new in my studio are collages of downtown Des Moines, so be sure to come Sept. 20 to the Valley Junction Fall Art Market — 11am to 5pm. See you there!