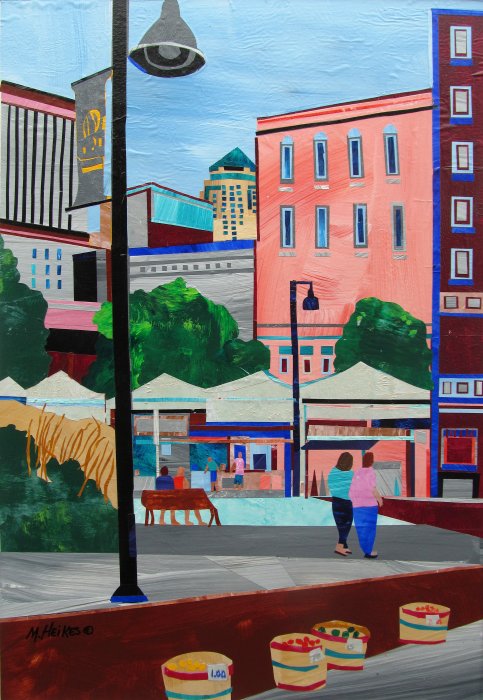 Des Moines Farmers Market #2
Acrylic collage
This painting is one of a series I have been working on for a few years. I am inspired by the farmers market locale, the people and the Des Moines architecture.
I work from a collection of photographs taken over the years when we visited the market. What captured my attention were the figures and canopy tents, and the shapes of the bushel baskets in the foreground. I did complete a preliminary sketch the same size of the support I am using. In this case it is hardboard which I have primed with gesso.
After that is the selection of colors, and I chose from my large pile of hand-painted acrylic papers. I have experimented painting various papers and found my favorite is a lightweight barrier paper. I use a heavy body acrylic pigment that is thick, and brush or roll the globs of paint around on the paper and let them dry overnight. Sometimes it takes a couple days to dry, depending on the humidity and air circulation in my studio. For this piece I selected a variety of reds, neutral grays and blues.
I began with the lamppost on the left and worked my way around the composition, connecting shapes. I like working with collage because it is easy to edit and make changes without damaging the surface, as it would using watercolor and some staining pigments. I did have some figures in the center but decided early on to remove them. I work intuitively and the composition was stronger without them. The baskets in the foreground leads the eye into the picture and sidewalk also pulls the viewer's eye into the market of vendors. I especially like the buildings in the background, which are recognizable elements in the painting. I plan to continue this series because the compositions are interesting to me. All the elements of the designs complete the farmers market experience!
Want to Buy It?
Format
Size
Price
Original

15 ¾″ × 23 ½″

Graphite gray metal frame (23.5" x 30") with white mat

Print

8″ × 10″

Actual image size is 6.7″×10″.

Print

11″ × 14″

Actual image size is 9.38″×14″.

Print

16″ × 20″

Actual image size is 13.4″×20″.
*Frame and mats not included unless noted. Shipping costs are for the continental U.S. Ordering help & policies.