New Award!
September 30, 2012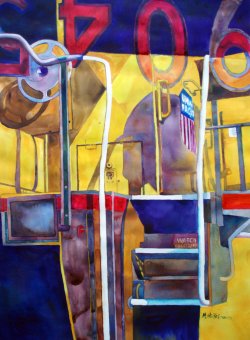 This week I received the news that my watercolor painting Nine Zero Four won the Second Place Cash & Ribbon Award in the National Abstract Exhibition at the Greenwood Art Center in Indianapolis!
I started painting these Union Pacific Engines two years ago, after we drove past them on our way to the local recycling center. There were at least twenty engines parked by the grain elevator and I got to thinking they would be a great subject matter! So I went out in January when there was still some snow on the ground and climbed down the embankment to take some close up photographs. I didn't realize how massive these engines were, and I also didn't notice how many details there were until I started painting them. Of course, the engines are no longer there—something that seems to happen to me once I get hold of an idea! So far, I've done five of these engine designs. Last nite I realized that the astonishing fact about this painting. I started it at the end of June, after trashing two earlier acrylic collages I planned to enter in this show. Somehow they weren't working design-wise or color combinations. I actually finished this watercolor in early July and sent it in time for the July 14th deadline, along with the Hay Baler that was on the shelf half finished. Sometimes I surprise myself.
Statistics include 49 artists submitting 129 entries from 9 states. The juror, Keith Linton, chose 52 paintings from 38 artists for the show.