Houston 36th International Exhibition
February 18, 2013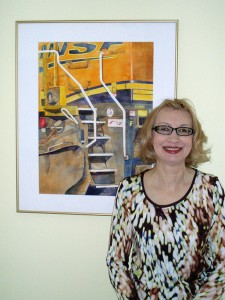 My watercolor painting "Front, BNSF" has been chosen to be part of the prestigious Houston Exhibition by juror Jan Fabian Wallake. More than 370 paintings were submitted and the jurying process was very complex and many paintings could not be included. I feel very lucky to be part of this show. This show will be on display at the WAS-H Gallery in Houston between March 12 and April 4.
I've been painting various train engines for a couple years and have been challenged with all the details and colors. I feel a personal connection with these behemoths. When I was a child, my father would take me to watch the trains near our home. At present, I also have a watercolor painting in the Arts in Harmony exhibit at Elk River, Minnesota.
The following are some of the juror's comments on what criteria she considers when judging a show:  "Good art communicates an impression, even non-objective works should create an impact on a viewer because every stroke that an artist makes carries a message.
"Creating an award-winning painting means transforming a subject or scene into a personally-inspires creative expression and then communicating it with a technical proficiency that exudes confidence with every brush stroke."