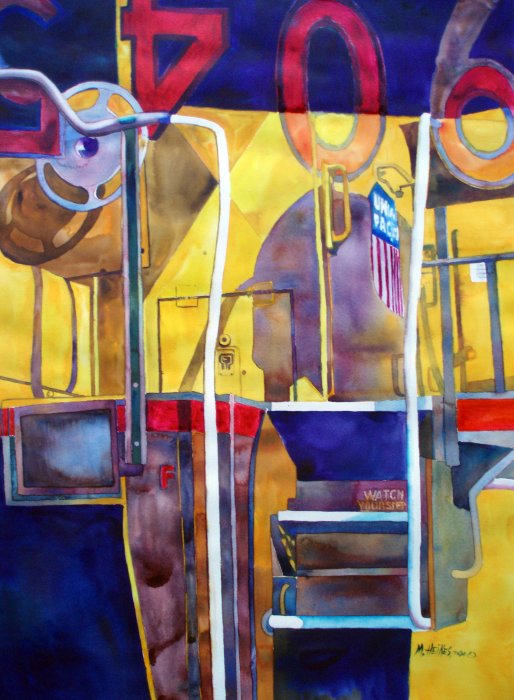 Nine Zero Four
Transparent watercolor
This watercolor is part of my series of the Union Pacific engines. The abstract shapes and bold colors captured my attention!  I used my camera to compose the designs and it's not until I start the actual painting process that I notice more details. I edited this quite a bit and just focused on the steps leading onto the compartment. It was painted specifically for a competition in mind, as I usually do not paint abstractly — so it was a challenge.  The main pigments I used were cadmium yellow, gamboge, purple, thalo blue and quinacridone red.
Second Place Award in Midwest Nat'l Abstract Exhibition 2012
This painting will be exhibited in the Midwest National Abstract Art Exhibition VIII, from September 29 – November 4, 2012. The exhibit will be held at the Garfield Park Arts Center in Indianapolis.
Want to Buy It?
Format
Size
Price
Original

22″ × 30″

Metal frame (28" x 36")

Print

8″ × 10″

Actual image size is 7.33″×10″.

Print

11″ × 14″

Actual image size is 10.27″×14″.

Print

16″ × 20″

Actual image size is 14.67″×20″.
*Frame and mats not included unless noted. Shipping costs are for the continental U.S. Ordering help & policies.