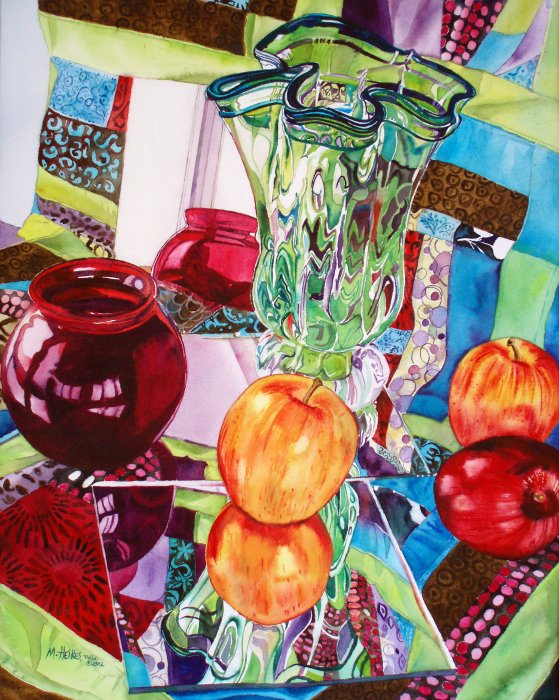 Crazy Quilt #1
Watercolor
This still life is crammed with interesting objects that I have collected. The main feature is the flared emerald-green vase and the crazy quilt, which I sewed with many of my fabric scraps. It is a one-of-a-kind quilt!  Also in this setup are square mirror tiles, apples, and a round ruby vase. It was most difficult to paint the quilt and the curving pattern of the flared vase. Drawing the design structure first is another love of mine.  This piece is a continuation of my interest in still lifes focusing on glassware. I love the transparency of the glass and the relationship of the elements and their colors.
Exhibited in the Iowa Watercolor Society's Annual Show 2012
Want to Buy It?
Format
Size
Price
Original

18″ × 22″

Gold metal frame (24" x 30") with double mats of white & dark brown.

Print

8″ × 10″

Actual image size is 8″×9.78″.

Print

11″ × 14″

Actual image size is 11″×13.44″.

Print

16″ × 20″

Actual image size is 16″×19.56″.
*Frame and mats not included unless noted. Shipping costs are for the continental U.S. Ordering help & policies.