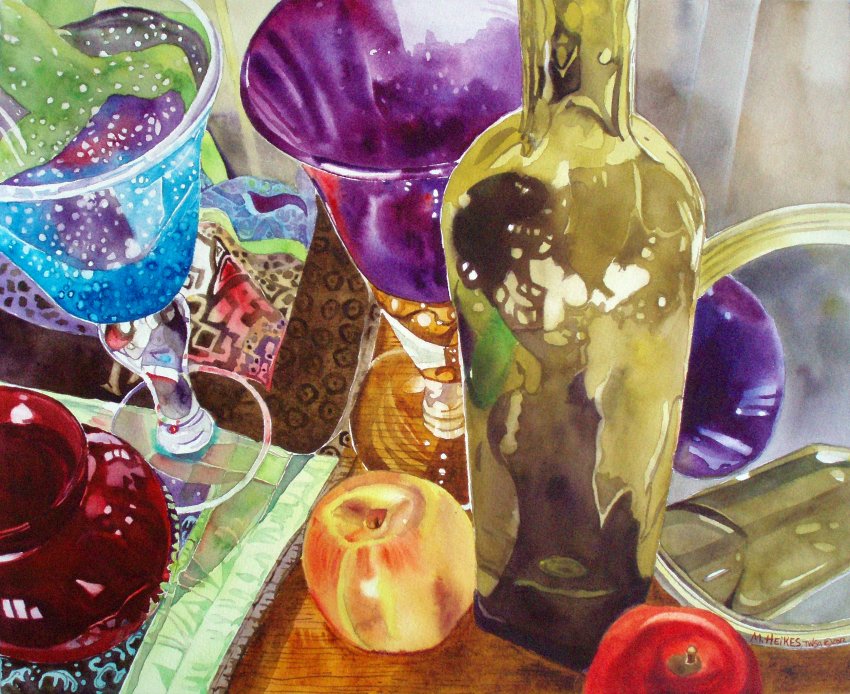 Fruit, Bottle & Goblets
Watercolor
This is my second still life featuring my hand-sewed Crazy Quilt, and I wonder what I was thinking since it has so many details — the ruby-red vase, apples, an antique mirror, wood-grained table, and transparent glass! A lot a textures crammed into a still life, but I am very happy with the results. It only took me a month to paint; gone are the days when I completed a painting this large in just a few days.  There are lots of repeated patterns and vivid hues in this, besides the difficult challenge of drawing every item correctly.
This is a horizontal design with predominant colors of deep red, gold, lime, turquoise, purple, and gray.
Exhibited in the Aquarius National Watercolor Show 2013
Want to Buy It?
Format
Size
Price
Original

19″ × 15″

Walnut wood frame (20" x 24") with single pale green archival mat

Print

8″ × 10″

Actual image size is 7.89″×10″.

Print

11″ × 14″

Actual image size is 11″×13.93″.

Print

16″ × 20″

Actual image size is 15.79″×20″.
*Frame and mats not included unless noted. Shipping costs are for the continental U.S. Ordering help & policies.