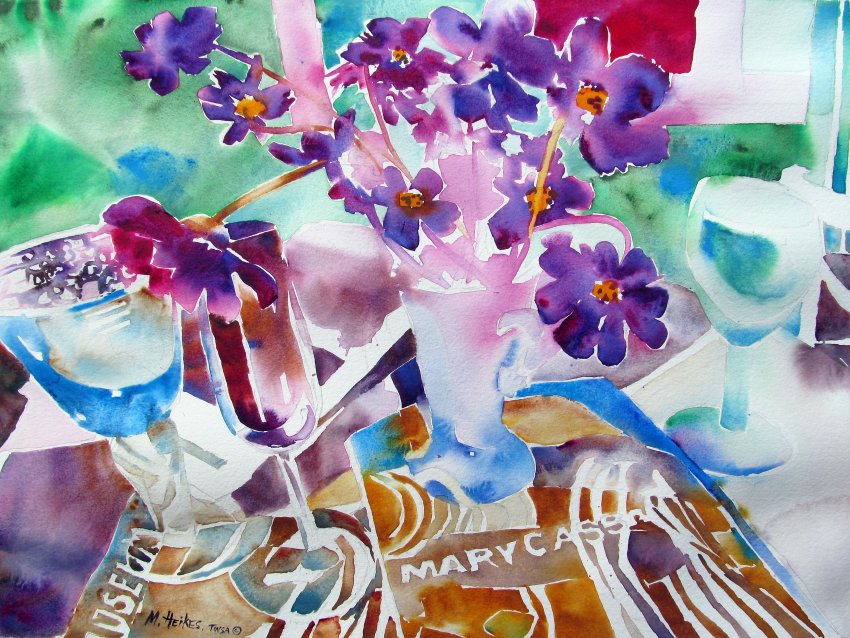 Still Life with Mary Cassatt
Watercolor
My inspiration for this painting was combining my favorite elements into a still life setup. In this design I chose my popular and much-used turquoise goblets, a cosmos bouquet, and a collection of art books from my personal collection. I set these objects up on a glass table outside, in bright sunlight. I photographed the setup from various angles, changing the composition each time I moved around the table. I then worked from my photo, because it was too windy that day to capture the blowing flowers and the danger of toppled glassware. Numerous angles from the photographs also made different designs possible.
Sketching gets me in the mood to paint, and I usually spend a day just drawing and thinking about the painting and the ways to approach it, and pigments that will capture the essence of the flowers, and elements that make up the whole and how they are all connected. As always, I am drawn to the freshness of the flowers and their bold and beautiful colors.
I used Arches 300# cold press paper, which is new to me. Most of the artists' pigments I use are Daniel Smith or Graham. Beginning with lots of water, I used a big flat brush to wet select areas, then drop juicy blobs of pigment wet-in-wet and allow colors to blend and mingle as they will. The secret is to not go back into a wet wash and fiddle with it.
I began by painting the flowers, and worked my way down and across the composition, allowing colors to run into connecting areas, tying them together. The books in the foreground lead the viewer's eye into the picture. There were other elements I edited that were distracting or made the composition too busy. It is just as important what you leave out, as what you put in. The goblets have found their way into many of my watercolor designs since 2006, and I still fine the transparency of the glass and fractured patterns with other still life elements very interesting to paint.
Want to Buy It?
Format
Size
Price
Original

24″ × 18″

White metal frame (30" x 24") with white mat

Print

8″ × 10″

Actual image size is 7.5″×10″.

Print

11″ × 14″

Actual image size is 10.5″×14″.

Print

16″ × 20″

Actual image size is 15″×20″.
*Frame and mats not included unless noted. Shipping costs are for the continental U.S. Ordering help & policies.