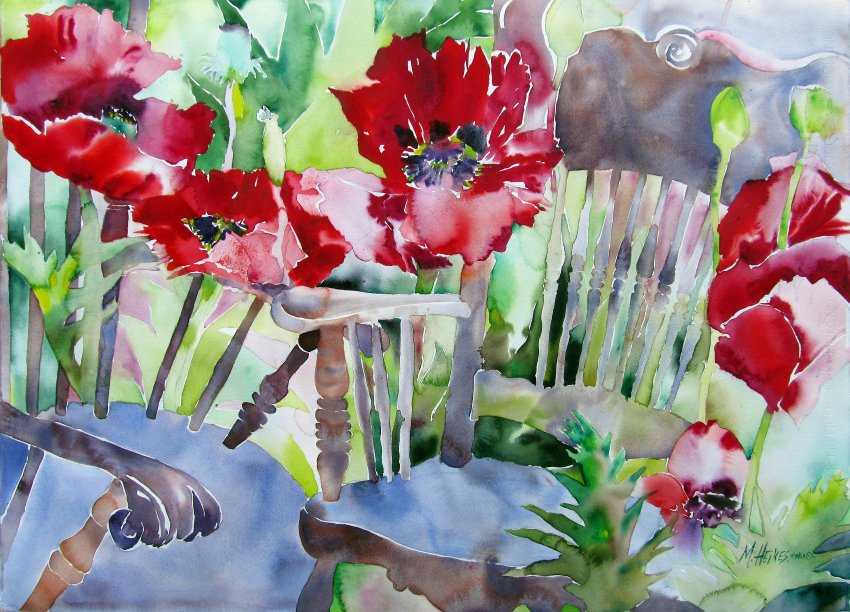 Chairs Series #130 / Poppies
Watercolor
My inspiration for this series began in 1985, when I attended a watercolor painting workshop. Having little painting experience, except for dabbling in oils, I took the advice of the instructor to heart: paint what you love. At that time I gathered the still life materials that were available — beautiful dining room chairs and lots of jungle-like houseplants.  With no preliminary sketching, I sat down in front of the chairs and drew directly on the sheet of 22 x 30 watercolor paper. After designing the chair shapes I added the plants: leaves, stalks and stems, and overlapped the shapes.
This series of paintings continued throughout the years. A friend encouraged me to enter some of these watercolors in national and international shows. I am happy to say they did very well in these juried competitions, winning many awards over the years.
In this particular painting, I used photographs of a friends' chairs, and I wanted to do something a little different for the plants. I spent some time first sketching poppies from my garden reference photos. I use the same size of paper that I plan to do the painting on, so I do not have to enlarge it on the watercolor paper. The flowers compete with the shapes of the chairs, which I wanted to paint in various tones of grays. These grays were tested ahead of time on a scrap paper. After sketching the shapes of the chairs, I used the poppy sketch underneath the watercolor paper and lightly indicated the poppies around the chairs' shapes, weaving and integrating the shapes in a pleasing design.
I began with the shapes of the poppies working wet-in-wet and allowing the red pigments to blend on the paper. Since the focus is the poppies and chairs, I painted the background in subtle greens and connected the shapes with plain water. The trick is to keep the underside of the paper damp throughout.
I have found that the advice given at the workshop, to paint in a series, is evidence that an artist can see her progress. Over the years I have painted more than one hundred of these themed watercolors. They all are unique and I enjoy the challenge of continuing this series — the combinations of the elements and colors are endless and a great joy to me.
Want to Buy It?
Format
Size
Price
Original

30″ × 22″

Brushed satin pewter frame (36" x 28") with white mat

Print

8″ × 10″

Actual image size is 7.33″×10″.

Print

11″ × 14″

Actual image size is 10.27″×14″.

Print

16″ × 20″

Actual image size is 14.67″×20″.
*Frame and mats not included unless noted. Shipping costs are for the continental U.S. Ordering help & policies.