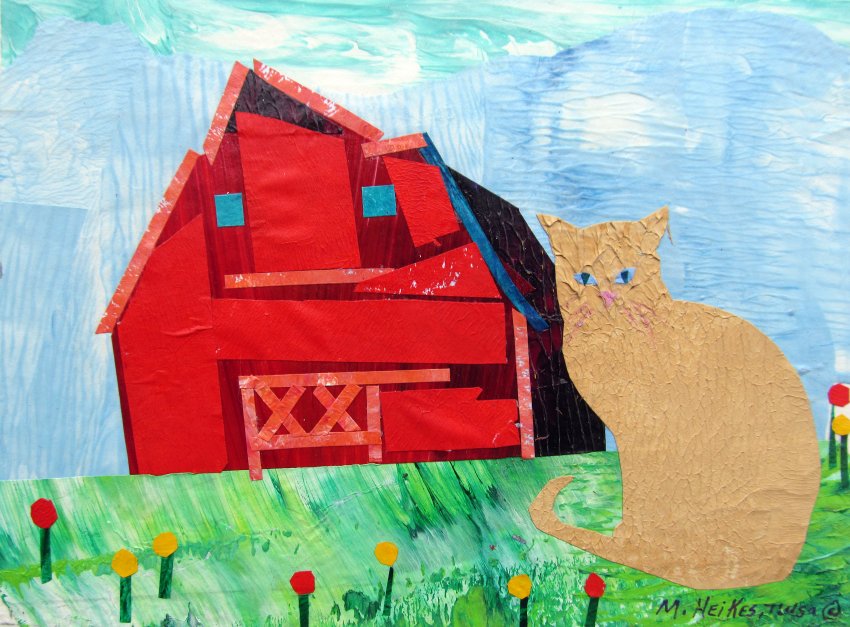 Iowa Morning with Siamese Cat & Red Barn
Acrylic collage
Over the years I have created many barn collages, and the first four collages I painted were of barns with a variety of farm animals. I fell in love with the old, rustic barn structures. My love of animals inspired me to add these whimsical creatures to the barn shapes that attract people of all ages. The most favorite of all farm animals are the pigs, chickens, cows and roosters.
I decided to include a cat with this landscape with the typical red barn. Red seems to be the most favorite color for barns. Our family loves cats and we have quite a collection of different colors. This is our Siamese cat sitting pretty among the bright colored flowers in the foreground. The barn is a simple shape standing on a sloped piece of ground with a soft, cerulean and teal sky.
All my collage papers are hand painted with heavy body acrylic paints on a thin white paper. Because the paints are thick and I use a variety of colors to paint the surface, the result is a textured paper that adds lots of character to the finished artwork. Most of the time I paint with a brayer and sometimes I will use a stiff oil-painting two-inch flat brush to create brushstrokes. When I begin to design the artwork I usually start at the top and work my way down. Occasionally I will start at the center of interest because that particular item was the cause of my inspiration for the piece. I use a glue stick to temporarily dab on the pieces to hold them in place first and edit and change colors and shapes as I progress and work towards a finish. The cloud shapes were torn and not very obvious because of the close value tones. I am pleased with the end result; my goal was do complete a 5×7 petite collage, which is difficult for me because the tiny shapes are difficult to cut.
Want to Buy It?
Format
Size
Price
Original

7″ × 5″

Flat copper wood frame (10" x 8") with light gray & white mats

Print

8″ × 10″

Actual image size is 7.14″×10″.

Print

11″ × 14″

Actual image size is 10″×14″.

Print

16″ × 20″

Actual image size is 14.29″×20″.
*Frame and mats not included unless noted. Shipping costs are for the continental U.S. Ordering help & policies.