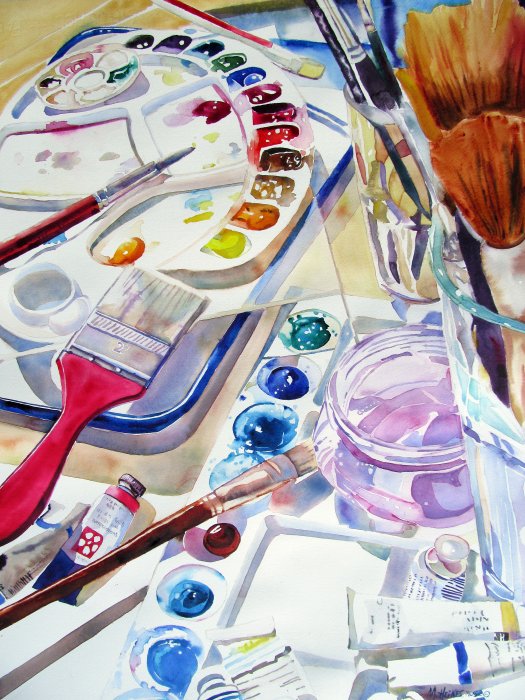 Palette Talk #3
Watercolor
I liked the idea of continuing my palette series.  This one was a challenge, with the butcher's tray and two palettes, brushes, glassware, water jar and paint tubes. I set this arrangement up outside on our front deck in direct sunlight — my favorite method for working outside! I walk around the display, taking numerous photographs at various angles.  My aim is a casual set-up, not a formal one. Shadow patterns also add interest and depth to the painting. I feel it is better to have too much in the set-up as opposed to a few objects. The brushes add exciting diagonal patterns and with the foreground palette leads the eye into and around the pictorial space. It ended as a "high key" painting — a limited dark value pattern.
Want to Buy It?
Format
Size
Price
Original

19″ × 25″

Metal frame (23.25" x 29.75") with single off-white mat

Print

8″ × 10″

Actual image size is 7.6″×10″.

Print

11″ × 14″

Actual image size is 10.64″×14″.

Print

16″ × 20″

Actual image size is 15.2″×20″.
*Frame and mats not included unless noted. Shipping costs are for the continental U.S. Ordering help & policies.