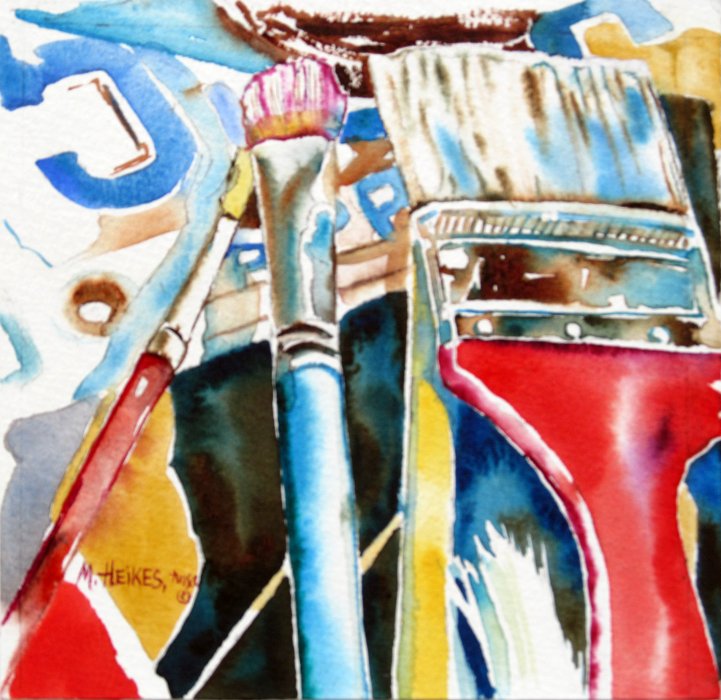 License to Paint
Watercolor
This is a petite composition done specifically for an upcoming show with size limitations. I found it difficult to crop my reference photo and even more of a challenge to paint a six-inch-square format. So it is just a piece of the larger design I had planned originally — I may get to that another time!  I set up a casual still life with my brush collection, glassware and license plates.  The foreground focus is the two-inch wash brush and a couple of old bristle brushes for oils.  The design also has a piece of the numeral five, which is coincidentally in another painting in progress. I find it strange to have certain symbols popping up again and again in my designs. I do not plan that to happen, and it is a continuity that ties my paintings together.
Want to Buy It?
Format
Size
Price
Original

6″ × 6″

Gold wood frame (12" x 12") with white and denim blue mats

Print

8″ × 10″

Actual image size is 8″×8″.

Print

11″ × 14″

Actual image size is 11″×11″.

Print

16″ × 20″

Actual image size is 16″×16″.
*Frame and mats not included unless noted. Shipping costs are for the continental U.S. Ordering help & policies.