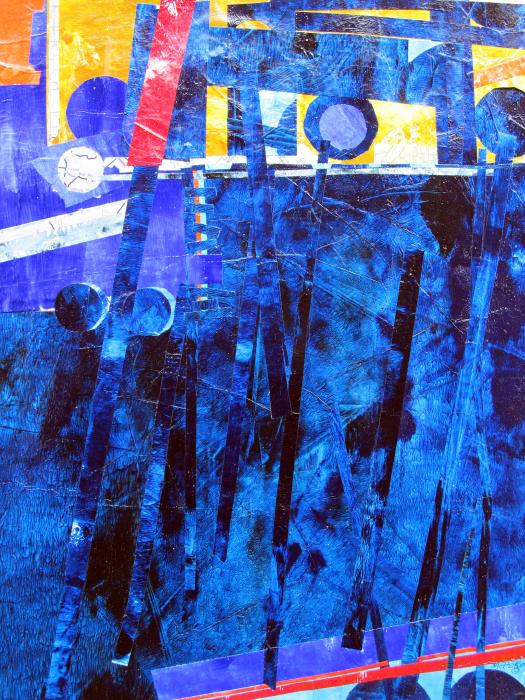 Road Trip #1
Acrylic collage
Lately I have been working on some non-objective pieces specifically for upcoming competitions. Easier said than done!  It is pure design without any reference photos, so I began playing with a limited number of cut paper shapes and re-arranging them until I was satisfied with the design.  I find it very difficult at times critiquing the piece in progress; after placing a white mat around the design, I rotate it carefully and view it from all angles. It all comes down to cutting, pasting, adding and subtracting. The wonderful thing about creating collages is that "mistakes" or unhappy passages can be easily pasted over with another shape or color.  Hopefully, no one will ever put my collages under the x-ray machine and uncover the layers of development!
I fell in love with a sheet of my indigo-ultramarine blue pre-painted papers and that was my first shape. The accents are bits and pieces of a map, and turquoise and bright red dotted lines were substituted for the double yellow lines on the highways.  While I work, the title and other ideas pop into my mind. I find this thread of colors carried on to the next piece, creating a series of harmonious works.
Exhibited in the 2013 Midwest National Abstract Art Show IX
Want to Buy It?
Format
Size
Price
Original

16 ½″ × 21″

Black wood frame (22" x 26") with light gray and dark gray mats

Print

8″ × 10″

Actual image size is 7.86″×10″.

Print

11″ × 14″

Print

16″ × 20″

Actual image size is 15.71″×20″.
*Frame and mats not included unless noted. Shipping costs are for the continental U.S. Ordering help & policies.