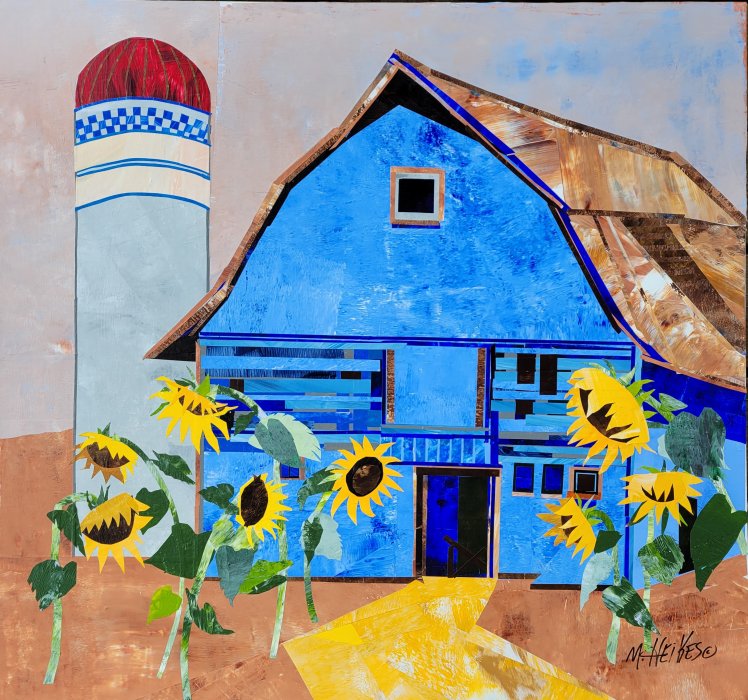 Sunlit Path
Acrylic collage
My love affair with old barn structures continues. Working with collage, and editing as I work, results in an out-of-this-world design.
All my papers are painted with acrylic pigments in my studio before I begin the actual cutting of shapes and gluing. I consider colors first, then shapes, as I sort through my large selection of papers on my studio shelf. Sometimes I do a quick sketch, other times I dive in and begin cutting shapes. My process is intuitive and searching. Usually other ideas for the design pop up while working.
In this particular artwork, I had no idea what the foreground would be. The whimsical sunshine-filled sunflowers were added last. They are filled with movement — dancing in front of the big blue barn. The real structure was actually a dilapidated stucco barn with rotten boards nailed over bare windows — an easy restoration with brightly colored papers. The silo was added from another one of my reference photos.
Want to Buy It?
Format
Size
Price
Original

32″ × 34″

Silver metal frame (40" x 42") with single white mat

Print

8″ × 10″

Actual image size is 8″×8.5″.

Print

11″ × 14″

Actual image size is 11″×11.69″.

Print

16″ × 20″

Actual image size is 16″×17″.
*Frame and mats not included unless noted. Shipping costs are for the continental U.S. Ordering help & policies.