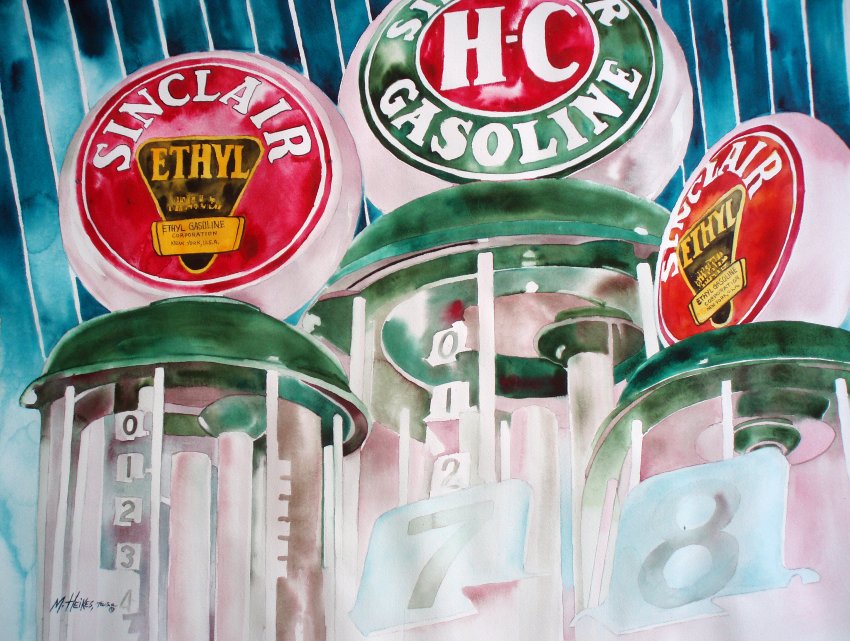 Talking Heads
Watercolor
I've been intrigued with these antique gas pumps and have painted them numerous times. The shapes reminded me of figures chatting with each other. The top inside of the roof at this State Street station has linear direction which leads to the "figures". It was tough for me to use a limited palette too, as opposed to using every color on my palette. Another element that was interesting to me are the numerals on the inside of the tank.  I used the wet-in-wet technique so the numerals didn't overpower the top of the design. Some of the red pigments have a tendency to bleed all over the paper, and I tried to blot most of it up before it got away from me.
Want to Buy It?
Format
Size
Price
Original

26″ × 18 ½″

Gold metal frame (26" x 31") with double mats

Print

8″ × 10″

Actual image size is 7.12″×10″.

Print

11″ × 14″

Actual image size is 9.96″×14″.

Print

16″ × 20″

Actual image size is 14.23″×20″.
*Frame and mats not included unless noted. Shipping costs are for the continental U.S. Ordering help & policies.