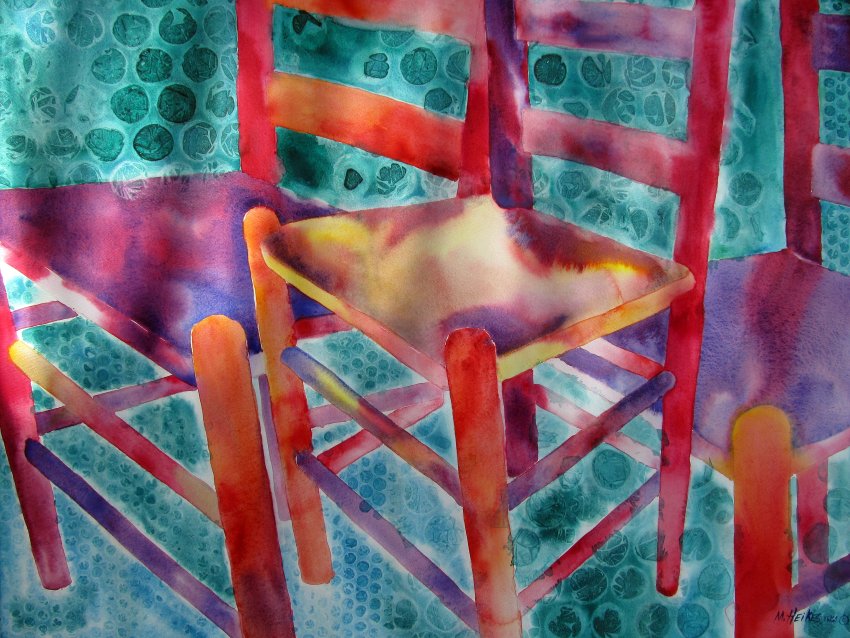 Emerald Echoes
Watercolor
My intention for this painting was to use complementary colors to make this piece sing! The chairs were painted wet-in-wet, dropping the pigments into the the damp areas of the paper. I love the way the pigments have mingled and flowed into each other. This is the main attribute of watercolors, and I love to take advantage of this.
Most of the time I begin painting the positive shapes of my design, as it is the key element of my composition.  I did some experimenting on scrap paper of various textures and decided on the round, plastic shapes behind and around the chairs. And I used of a variety of green pigments, which is the complement of red. The painting is done on Arches cold press watercolor paper and Artists' finest quality pigments.
Want to Buy It?
Format
Size
Price
Original

25 ½″ × 20 ½″

Gold metal frame (31.5" x 26") with single white mat

Print

8″ × 10″

Actual image size is 8″×9.95″.

Print

11″ × 14″

Actual image size is 11″×13.68″.

Print

16″ × 20″

Actual image size is 16″×19.9″.
*Frame and mats not included unless noted. Shipping costs are for the continental U.S. Ordering help & policies.