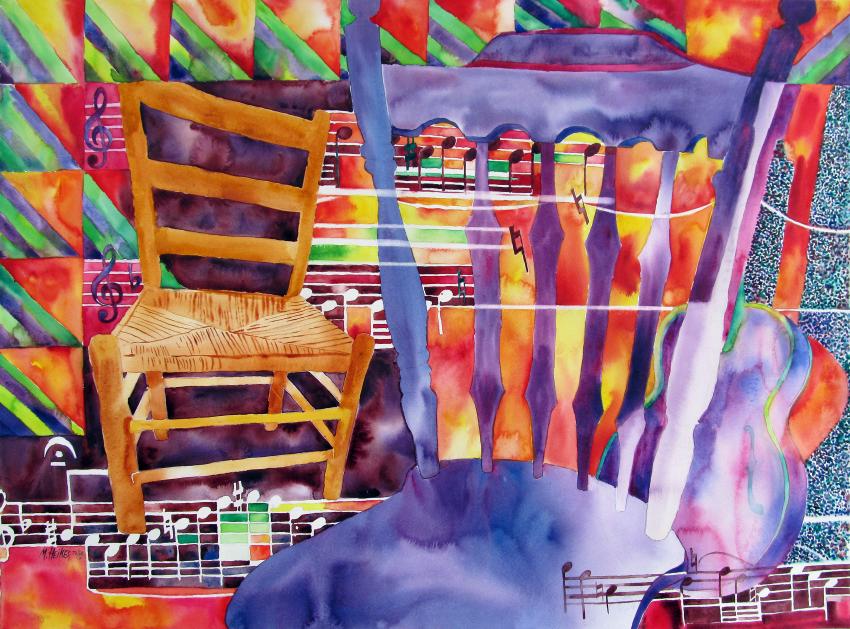 Quasi Cadenza
Watercolor
This particular piece was not one I breezed through effortlessly. One of the problems was limiting colors. I have a tendency to go hog wild with colors! Every element surrounding the chairs works toward harmonizing the shapes and patterns. It gets complicated if there are too many shapes and if it gets too crowded. I always begin just by drawing and designing the composition. Sometimes I have erased everything and started over again, especially if I get a better idea halfway through the drawing, or even while painting it. And it is difficult allowing the struggle to show through after the finish.
I believe the finished painting is successful. One of my reference photos reminded me of Van Gogh's bedroom painting with the chair of the wicker seat, and I wanted to include it as the main shape because I have always liked that painting. It amazed me that an artist would paint his bedroom. The title of this was on a piece of music a friend gave me years ago.
Want to Buy It?
Format
Size
Price
Original

30″ × 22″

Metal frame (36" x 28") with white mat

Print

8″ × 10″

Actual image size is 7.33″×10″.

Print

11″ × 14″

Actual image size is 10.27″×14″.

Print

16″ × 20″

Actual image size is 14.67″×20″.
*Frame and mats not included unless noted. Shipping costs are for the continental U.S. Ordering help & policies.