Collages Selected for Des Moines Exhibition
October 9, 2015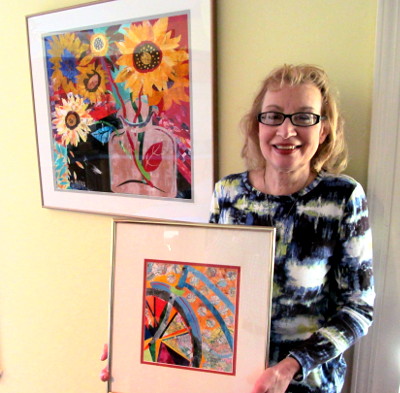 Two of Marybeth Heikes' original collages have been selected for the 22nd annual Greater Des Moines Exhibition. Her collages, RAGBRAI, depicting a close up of a bicycle wheel and pieces of Iowa map of the Mississippi river towns, and Supreme Sunflowers with Red Stems, a floral bouquet, will be part of this exhibit featuring Iowa artists.
The exhibit is located at the Polk County Heritage Gallery on 111 Court Avenue in Des Moines, Iowa. The show opens October 12 and continues through January 7.
The reception and awards ceremony will be October 18, from 1:00  to 3:00 pm.  This exhibit is free to the public and hours are from 11am to 4:30pm daily during the week.
Heikes' collages are constructed from her hand-painted acrylic papers after completing a loose, pencil drawing. She developed this technique and style of using textured colors and large shapes in 1985 and continues to refine and add mixed media with the acrylic paints. Her subject matter include cityscapes, barns, whimsical animals and flowers.
Many of her paintings are found in both public institutions and private collections. Her works have been featured on the cover of Sunshine Artist; American Artist Watercolor; Iowa Woman; The Artists' Magazine and Rockport Publishers' The Best of Sketching and Drawing.