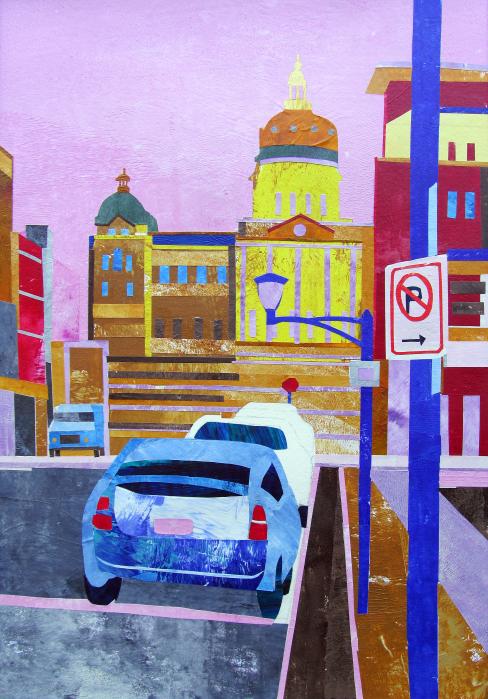 Truck Delivery in East Village (Des Moines Series)
Acrylic collage
This acrylic collage is part of my series work of downtown Des Moines, Iowa. I love the geometric shapes of the buildings and every detail that describes the big city is an inspiration.
Last February, I took numerous reference photos around the downtown area. I look for different angles that would be interesting and do a few sketches to get my creative juices flowing. There is usually too much detail on the photos, so I begin with a simple drawing and get the big, abstract shapes first. This always leads to more compositional ideas and I write some notes to use in the future. So far, I have not run out of ideas.
This particular scene is looking east towards the capitol building. I had to edit some of the details because there were too many of them and the design is stronger by eliminating them. The vehicles lead the viewer's eye into the picture, as do the sidewalk and lamposts. There was some snow on the vehicles, but I simplified that too. Because I am a colorist it sometimes takes me a while to decide the color combinations I will use. This is an intuitive process and I enjoy the challenge in cutting and piecing the shapes to build a strong composition that is eye-catching and interesting.
Most everyone is interested in recognizing their city and landmarks and are amazed at the vibrant colors and shapes that describe the painting. Viewed from a distance, the finished collage appears to be a painting full of bright colors and textured. If you look closely, the shapes are separate color pieces. I love using complementary colors to achieve color vibrations — they really sing when placed next to each other. Street scenes continue to interest me and I plan to do more of them.
Want to Buy It?
Format
Size
Price
Original

15″ × 22″

Black metal frame (20" x 27") with white mat

Print

8″ × 10″

Actual image size is 6.82″×10″.

Print

11″ × 14″

Actual image size is 9.55″×14″.

Print

16″ × 20″

Actual image size is 13.64″×20″.
*Frame and mats not included unless noted. Shipping costs are for the continental U.S. Ordering help & policies.