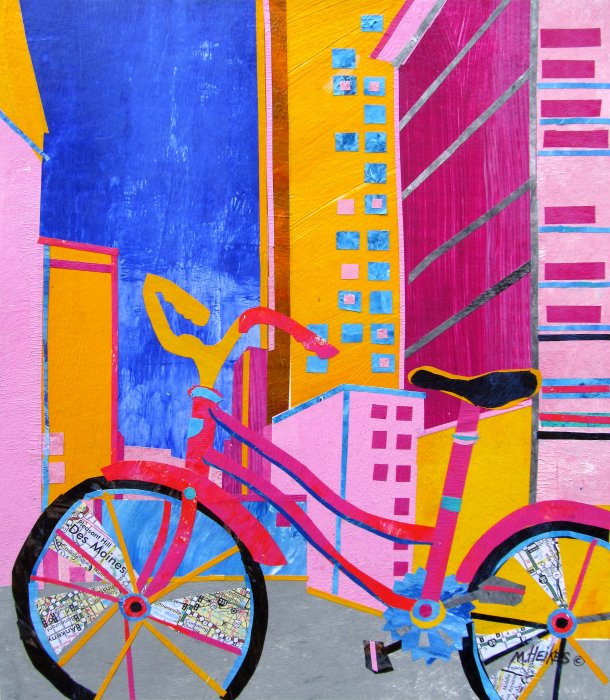 Ultramarine Morning & City Ride in Des Moines
Acrylic collage
I am creating a series of downtown Des Moines cityscapes for an upcoming show at the Artisan Gallery in Valley Junction. This is a special design combining the bicycle amid the downtown buildings on Grand Avenue.
I began with a few sketches in graphite of the city streets and took lots of reference photos. There is a lot of information to work with, and I edited by simplifying the shapes. The vertical composition worked better than a horizontal one, and my next challenge was fitting it into the frame — going with a mid-size format instead of my sketch size, which was actually 15 x 22. I also had some vehicles driving in the foreground and eliminated those and added the bicycle. Biking is popular in the city and this is a very streamlined bicycle. Bicycle enthusiasts may notice some elements missing, but the shape is identifiable.
Because I am a colorist, it is difficult to choose and limit which colors to use. The first shape I cut out was the ultramarine sky-shape and I decided early on to use a primary triad. The design is unified and has color harmony because of using a limited palette. Fuchsia or red-violet is one of my favorite colors, which is basically red with some blue in it. The lighter value of this is pink, which frequently finds its way into my artwork. The bright yellow is the third of the primary colors I used and it sparkles next to the fuchsia and pink.
The other technique I use is the texture of the acrylic paint when I hand-paint my papers for collage. Sometimes I use a rubber brayer to spread the paint. Other times a stiff, oil painting brush is used. These brush marks are evident texture and adds interest to the buildings. When using a brayer, the thick bodied pigments mix well on the paper adding variations of texture and color.
Want to Buy It?
Format
Size
Price
Original

12″ × 14″

Black wood frame (16" x 20") with light gray and dark gray mats

Print

8″ × 10″

Actual image size is 8″×9.33″.

Print

11″ × 14″

Actual image size is 11″×12.83″.

Print

16″ × 20″

Actual image size is 16″×18.67″.

Notecard Set

7″ × 5″

Package contains 6 designs of your choice on folded cards. Actual image sizes vary. Blank inside. Envelopes included.
*Frame and mats not included unless noted. Shipping costs are for the continental U.S. Ordering help & policies.