Flute Music & Petunias On Display in Hoyt Sherman Exhibition
February 24, 2016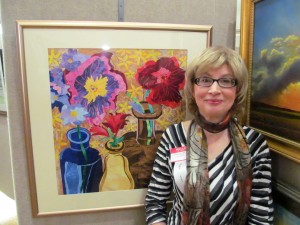 Marybeth Heikes' acrylic collage Flute Music and Petunias is on display this week at Hoyt Sherman Place in Des Moines. This is the 108th Annual Art Exhibition sponsored by the Des Moines Women's Club. The free exhibition runs from February 21 through February 28.
This exhibition is open to artists in central Iowa and are divided into two groups, Professional and Non-Professional. Artworks included are original, two-dimensional paintings, drawings or fine art prints. Awards are given in each category — First, Second and Honorable Mention.
Ms. Heikes is also exhibiting her painting Teapot Series #17 in the Annual National Rockies exhibition in Grand Junction, Colorado, and has a watercolor painting, Soldiers & Sables at the Octagon's All Media Show in Ames.