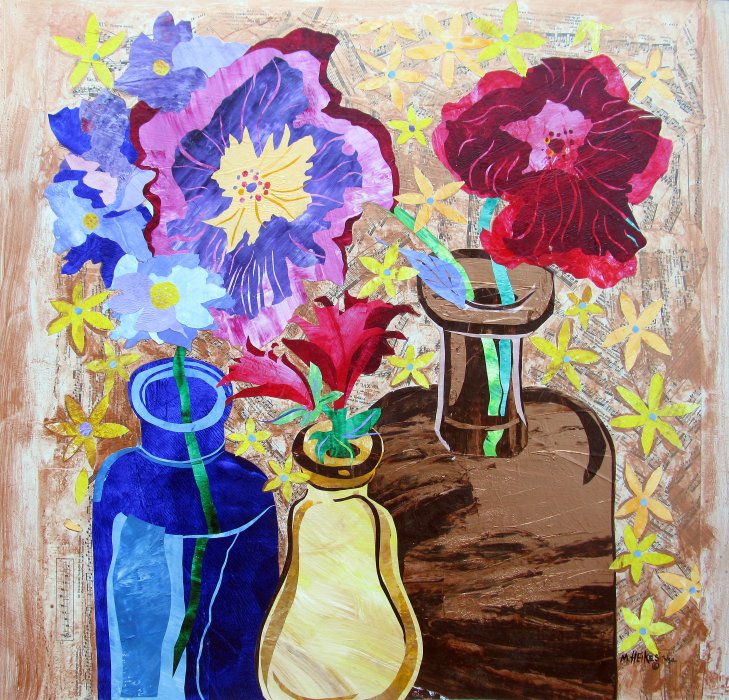 Flute Music and Petunias
Acrylic collage
This painting was inspired by my garden flowers and antique bottle collection. Still lifes are one of my favorite subject matter to paint, and I love the bright colors of summer flowers!
I decided from the start to use some of my flower sketches of our larkspur plants and fire engine red petunias. I began by sketching the design on a piece of tracing paper, being able to edit shapes as I worked. I decided to enlarge the petunias to a much larger size so they wouldn't be dwarfed by the bottles. Some sheet music for flute was cut up and added to the background.
Deciding it needed a bit more flowers in the background, I added some yellow daisies that seems to be floating or blowing by the wind behind the still life itself. Because the sheet music was too stark, I added a metallic copper wash over it.
Want to Buy It?
Format
Size
Price
Original

21 ½″ × 23 ½″

Bronze curved metal frame (28.5" x 29.5") with off-white mat

Print

8″ × 10″

Actual image size is 8″×8.74″.

Print

11″ × 14″

Actual image size is 11″×12.02″.

Print

16″ × 20″

Actual image size is 16″×17.49″.
*Frame and mats not included unless noted. Shipping costs are for the continental U.S. Ordering help & policies.