Teapot #17 in Rockies West National
February 11, 2016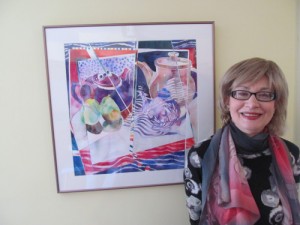 Marybeth Heikes is pleased to announce her acceptance in the Rockies West National 24th Annual Exhibition. Her watercolor painting Teapot Series #17 was chosen by juror Tom Francesconi. This exhibition will be held at the Center for the Arts in Grand Junction, Colorado, from March 1 to April 2.
Ms. Heikes' painting depicts a variety of teapots and fruit designed in an abstracted picture plane. She began this series in 2004 and begins by setting up a still life using some of the teapots in her collection and works from her original photographs. Occasionally she will do a quick thumbnail first to determine patterns and values.
Marybeth is a self taught artist and has been working for over 30 years. Her paintings have been exhibited in numerous national and international exhibits throughout the U.S. She works daily in her studio and welcomes visitors by appointment.