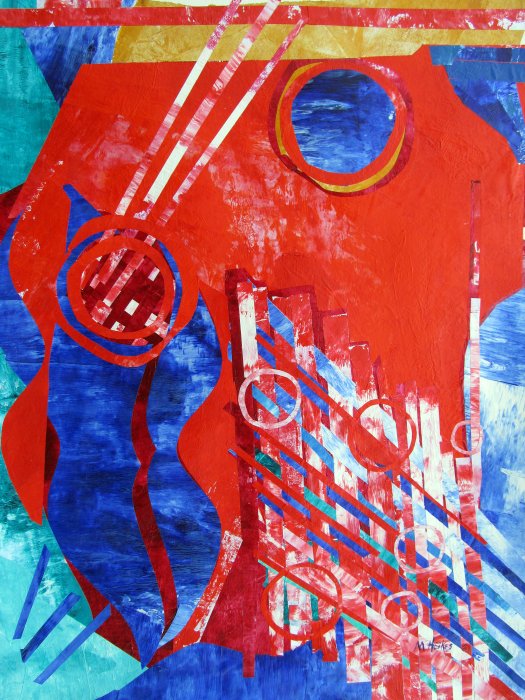 Concentric Weave / Red & Blue
Acrylic collage
My goal at the start was to create a unique design using a limited palette. I wanted the final design to be out of the ordinary and be eye-catching. It is also important to me to vary the shapes and sizes of these.
This is the part of the process I love. I have no preconceived design when beginning and I do not do thumbnail sketches for my abstract works. Sometimes my subconscious self chooses a color or shape from a previous design. I am aware of the process and allow the ideas to flow. I also save scraps of these papers from previous paintings and use them in other compositions. This is a unifying connection between my works. It is an intuitive process and I find that working daily inspires me and keeps me motivated.
As I sort through my hand-painted papers, I look for a color that inspires me and this changes from day to day. Once I choose the main color, the next colors are chosen that will complement the first or cause a color vibration between them. It is a random process of choosing colors and then shapes are cut, torn and assembled on my support. The principles of design are always in the back of my mind while working. The process of arranging and altering shapes is calming and pleasing while I am constructing an image that combines the elements of making a strong design with a good value pattern and moves the viewer's eye around the picture plane.
Once a month I will gather my drawing paper and acrylic paints and mediums to paint these textured papers that will be my "palette" of colors. I am mainly concerned with thick, juicy paint and the textures that come with using a heavy bodied pigment. Usually I use Golden Acrylics or Liquitex, but I have used other quality paints.
Want to Buy It?
Format
Size
Price
Original

22″ × 30″

Flat silver metal frame (28" x 36") with white mat

Print

8″ × 10″

Actual image size is 7.33″×10″.

Print

11″ × 14″

Actual image size is 10.27″×14″.

Print

16″ × 20″

Actual image size is 14.67″×20″.
*Frame and mats not included unless noted. Shipping costs are for the continental U.S. Ordering help & policies.