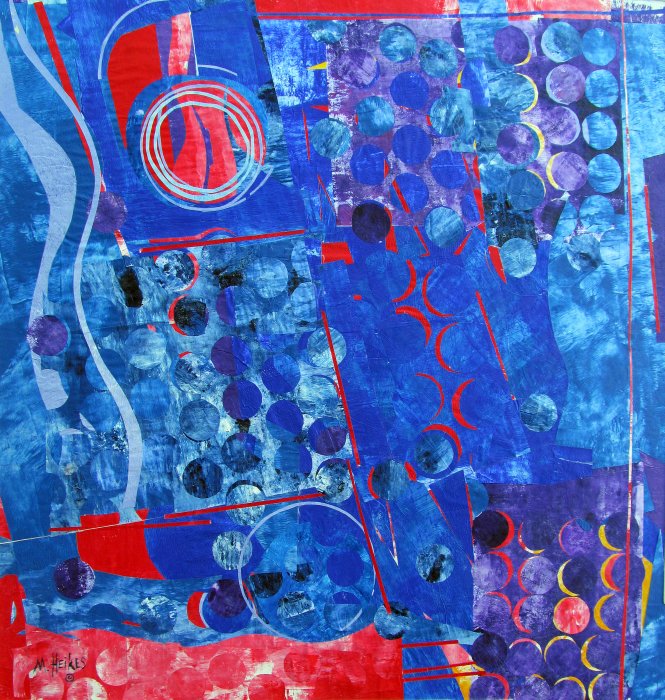 Getting Down To Get Over
Acrylic collage
My inspiration for this artwork was to explore another area that interested me: abstract compositions. A client recently requested this specific type of painting and I challenged myself in completing one. This is easier said than done, especially when my forté is painting still lifes and working from one of my reference photos. Some of my favorite artists in this genre are Klee, Matisse, and Kandinsky. Large geometric shapes are featured using a limited palette. I feel my work with collages strengthens my watercolor paintings because the design is more important than building a lot of details.
My design strategy is pretty much unplanned. The first time I tried it was daunting, working without a thumbnail or reference photos. An article on design I read mentioned using only twelve shapes in varying sizes. That was my starting point. The other important factor is limiting colors instead of having a rainbow effect.
My working process is first hand-painting my collage papers with a heavy body acrylic paint, usually Golden or Liquitex. These are a high-quality artist's paints. I usually spend a week or so painting the papers a  few times a year to build up my stockpile of colors. A sheet is painted for each color of the palette. Some of these are variegated with complementary colors to add texture.
In beginning the painting, I first choose colors that are bright and exciting to me. The main colors for this painting are a variety of blues and reds. Scissors and an X-Acto knife are used to begin cutting shapes. I am careful to lay these shapes on my support, either a 300# watercolor paper or a primed, tempered hardboard. The process involves moving the paper shapes around until I achieve  a pleasing design. Once I feel the design is moving in a positive direction, I use a glue stick to temporarily hold the pieces together.
This is a larger painting than usual, specified by a customer who has eighteen foot ceilings with a large area above a fireplace. While I worked on gluing this with acrylic gel medium, I added more papers over shapes that needed altering and improvement. Many of the small shapes were cut into the top layer.
I feel this is a successful composition and I employed the elements and principles of design. This includes repetition of shape, textured color, and value pattern.
Want to Buy It?
Format
Size
Price
Original

32″ × 34″

Contemporary silver metal frame (40" x 42") with white mat

Print

8″ × 10″

Actual image size is 8″×8.5″.

Print

11″ × 14″

Actual image size is 11″×11.69″.

Print

16″ × 20″

Actual image size is 16″×17″.
*Frame and mats not included unless noted. Shipping costs are for the continental U.S. Ordering help & policies.