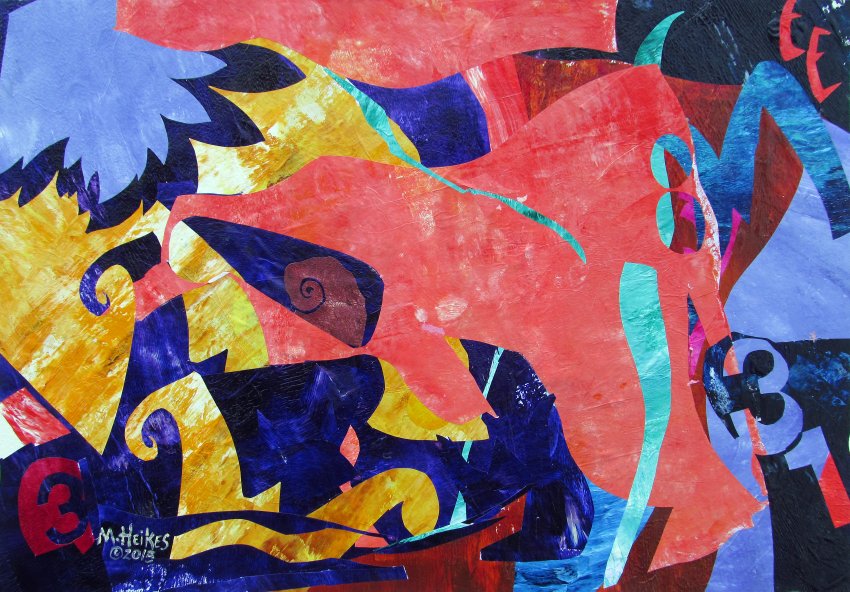 Velocity
Acrylic collage
It is a bit difficult doing an abstract design, having no sketch to work from. I began by choosing some of my textured, hand-painted papers and concentrating on big shapes and colors. It took me a while with the placement of these, adding other shapes and subtracting ones I didn't like. This is mostly an intuitive process where I edit as I create the design.
Working in this manner with paper shapes is relatively easy. I use a glue stick to temporarily adhere the paper shapes to the support. Placing a mat over the piece while it's in progress helps determine if my design is pleasing, and I can move shapes around until I feel it's completed.
Want to Buy It?
Format
Size
Price
Original

22 ½″ × 14″

Antique gold metal frame (30" x 22") with white and gray mats

Print

8″ × 10″

Actual image size is 6.22″×10″.

Print

11″ × 14″

Actual image size is 8.71″×14″.

Print

16″ × 20″

Actual image size is 12.44″×20″.
*Frame and mats not included unless noted. Shipping costs are for the continental U.S. Ordering help & policies.