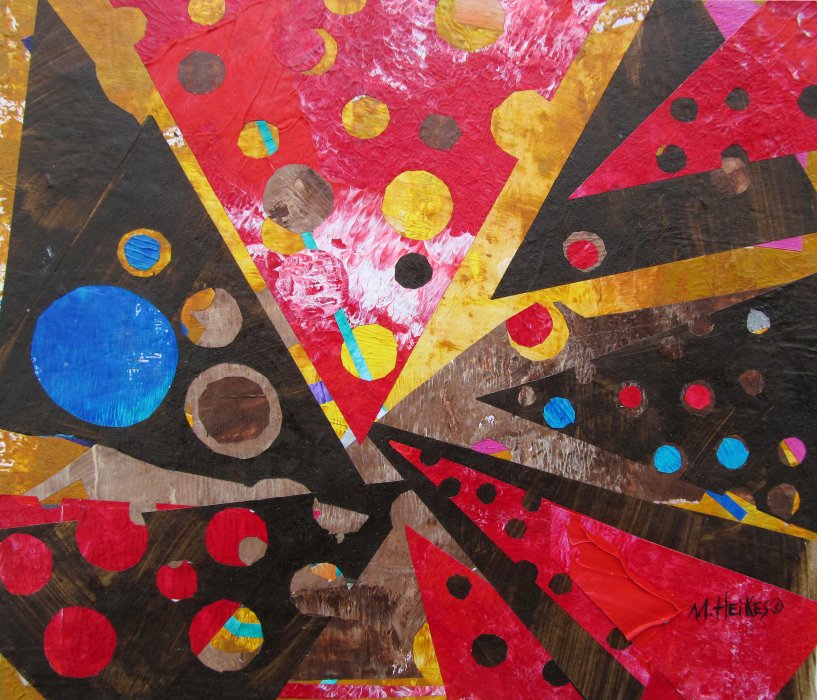 New Years Pizza, Blue Pepperoni
Acrylic collage
The most exciting moment for me is completing a collage without a thumbnail design, allowing the process to carry my creative mind on an adventure of discovery. In the past I began with a specific idea and drawing for a collage. It started with Iowa barns and farm animals. I traveled in southeast Iowa searching out old barns to photograph and still use those reference photos, as many of these interesting structures are now gone from the landscape.
For this particular piece, I started with scraps of my hand-painted collage papers and chose favorite colors. I save every scrap of paper and have many bags of color coded papers. No subject matter in mind, just playing with the arrangement of shapes. This process takes me a while to arrive at a design that pleases me. Strangely enough, I find it is more difficult to work in a small format as opposed to a large, 22 x 30 or larger area.
At the start of this design, I decided to scrap it and start over, as things were not progressing well with the composition. I chose red for the main color with umber in the big shapes. Rearranging the shapes, I continued to work with limiting the shapes and noticed similar patterns emerging. After one works thirty years in the studio, you begin to notice mannerisms and familiar shapes that are unique to you. This is one of the principles of design –repetition and movement leading the eye around the picture plane. Triangles and circles find their way into my designs. The shapes reminded me of pizza slices — voilà! I cut more circles of various sizes and used some blue accents for the pepperoni shapes. This made titling it so easy. I feel this is a successful design because I used the elements of design: strong values, colors, textures and direction of shapes. It is a fun and whimsical design.
Want to Buy It?
Format
Size
Price
Original

8 ½″ × 8 ½″

Flat black wood frame (12.5" x 12.5") with white mat

Print

8″ × 10″

Actual image size is 8″×8″.

Print

11″ × 14″

Actual image size is 11″×11″.

Print

16″ × 20″

Actual image size is 16″×16″.
*Frame and mats not included unless noted. Shipping costs are for the continental U.S. Ordering help & policies.