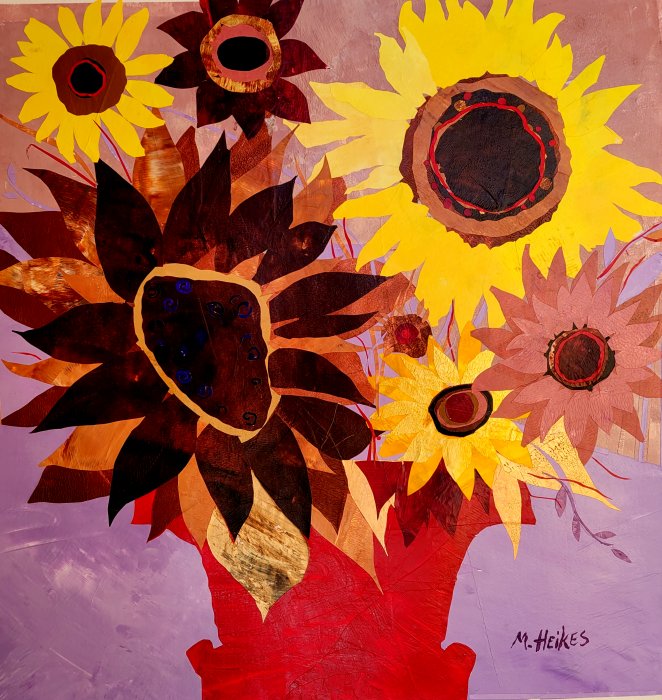 Copper Sunflowers on Mauve
Acrylic collage
This sunflower design changed dramatically since I began the initial design.
I had arranged the petals on an oblong board, 16.5 x 35.5. Leaf shapes entered the design, which were later taken out and a bright red vase added. It was edited and transformed to a square format, much to my liking. Various colors also changed from my original plan to ones more harmonious. This evolving design is challenging and forces me to allow for better compositional placements of shapes and colors. The results are more pleasing than I imagined and I'm happy just to play with the shapes.
Collage is so forgiving that anyone can create in this media. A simple drawing jumpstarts a composition and pieces can be added or subtracted as one works. It can be set aside and critiqued later.
Want to Buy It?
Format
Size
Price
Original

22″ × 22″

White wood with silver edge frame (27" x 27") with white and light gray mats

Print

8″ × 10″

Actual image size is 8″×8″.

Print

11″ × 14″

Actual image size is 11″×11″.

Print

16″ × 20″

Actual image size is 16″×16″.
*Frame and mats not included unless noted. Shipping costs are for the continental U.S. Ordering help & policies.