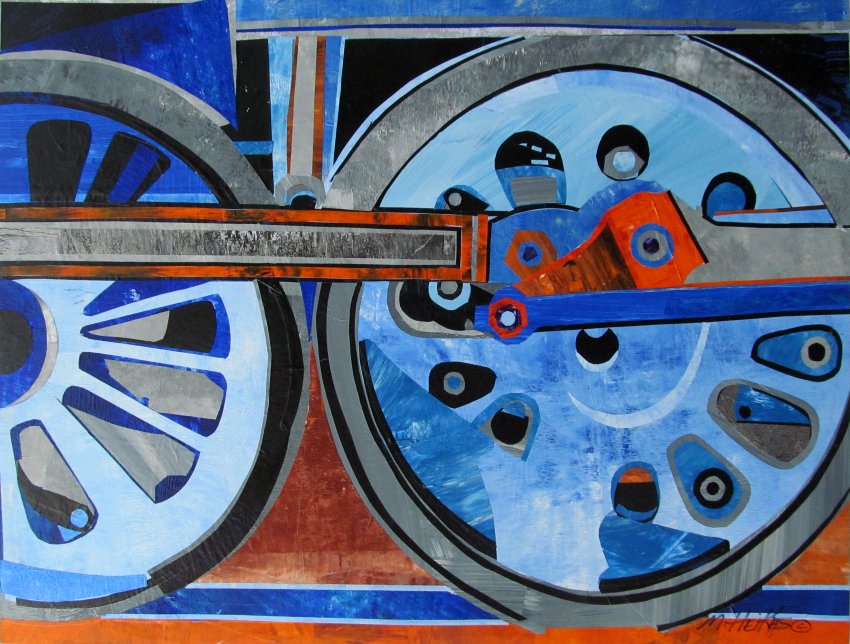 Engine Abstraction #26
Acrylic collage
This painting is a continuation of my abstract train engines. I have been drawing and painting engines since 2010 and find inspiration in the geometric shapes and colors. I complete a detailed pencil drawing first and then transfer my design to a gessoed hardboard. Most of the details are edited, and I simplify shapes. This particular composition zeroes in on a couple wheels. After transferring the design, I chose from my collection of hand-painted acrylic papers. This piece will be exhibited at Artisan Gallery 218, Valley Junction in early October 2019.
Want to Buy It?
Format
Size
Price
Original

24″ × 18″

Black wood frame (22" x 28") with white and gray mats

Print

8″ × 10″

Actual image size is 7.5″×10″.

Print

11″ × 14″

Actual image size is 10.5″×14″.

Print

16″ × 20″

Actual image size is 15″×20″.
*Frame and mats not included unless noted. Shipping costs are for the continental U.S. Ordering help & policies.