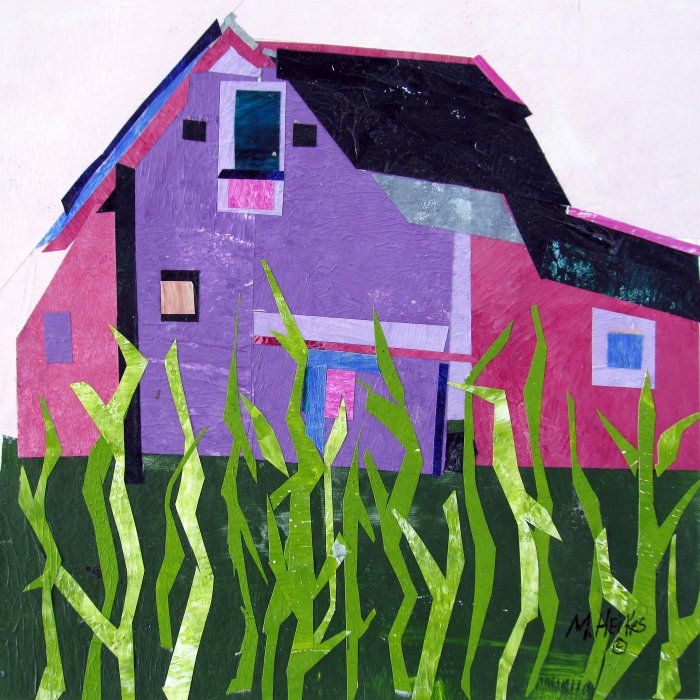 Cornfields & Purple Barn
Acrylic collage
I love painting the Iowa landscape with its old barns full of character. I improvise with the colors and design, working from my pencil sketches and reference photographs. For this piece, I used scraps of my hand-painted collage papers that I saved from work on larger pieces.These hand-painted acrylic papers are brightly colored and have lots of texture. I blend numerous colors when I paint these.
I began using a pale pink for the sky and used some geometric shapes for the roof and barn. The foreground was not planned until the last minute. I decided a cornfield would look great. I had forgotten my X-Acto knife, so I used scissors to sculpt the ragged corn stalk shapes. It was better than using the knife.
Want to Buy It?
Format
Size
Price
Original

9″ × 9″

Black wood frame (12.5" x 12.5") with white and purple mats

Print

8″ × 10″

Actual image size is 8″×8″.

Print

11″ × 14″

Actual image size is 11″×11″.

Print

16″ × 20″

Actual image size is 16″×16″.
*Frame and mats not included unless noted. Shipping costs are for the continental U.S. Ordering help & policies.