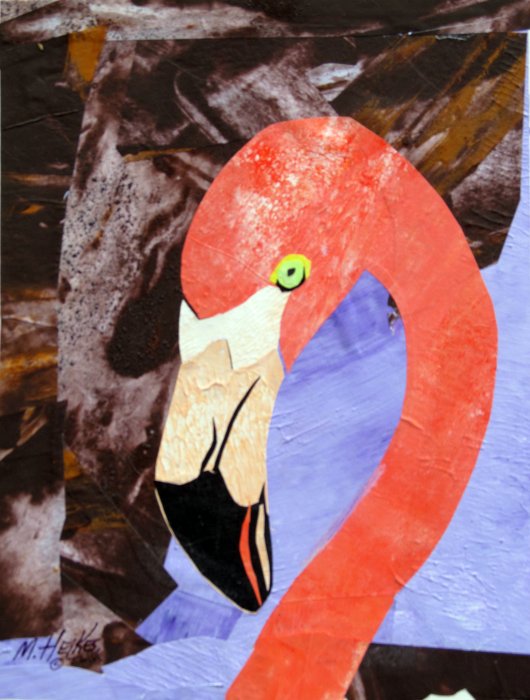 Flamingo on Vacation
Acrylic collage
The inspiration for this piece came about while we were on vacation in San Diego last summer. The color of these birds attracted my attention, it was so vivid. Everything about them inspired many sketches. I focused on the head of one bird. Its head and neck are very graceful. No background was planned, but I had an idea to use a chocolatey brown. This collage paper has some pastel pigments that I crushed into the wet paint to add some interesting texture. The dark background makes the coral-red head of the bird pop out. I decided not to have a totally flat brown background, so some lavender was introduced for the center section. I usually play with paper scraps to see which may add more interest than using a local color.
Want to Buy It?
Format
Size
Price
Original

6″ × 8″

No frame (9.5" x 13.5") with light brown and white mats

Print

8″ × 10″

Actual image size is 7.5″×10″.

Print

11″ × 14″

Actual image size is 10.5″×14″.

Print

16″ × 20″

Actual image size is 15″×20″.

Notecard Set

7″ × 5″

Package contains 6 designs of your choice on folded cards. Actual image sizes vary. Blank inside. Envelopes included.
*Frame and mats not included unless noted. Shipping costs are for the continental U.S. Ordering help & policies.