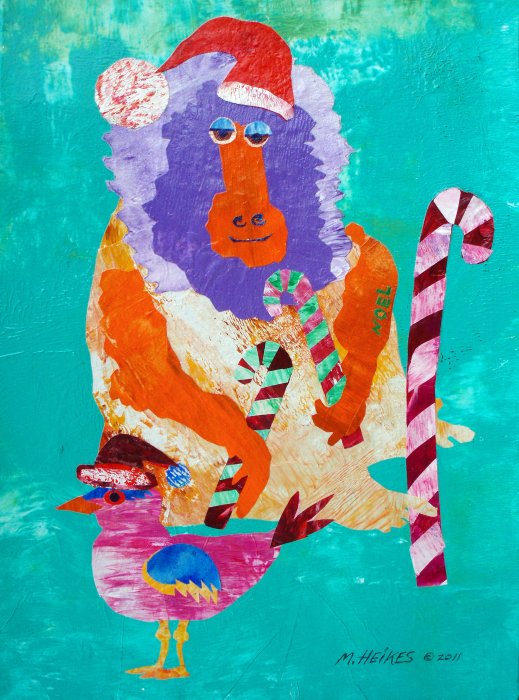 Sweets for the Baboon
Acrylic collage
For this painting, I decided to do the background first instead of starting with the center of interest, as I usually do. In this case, the baboon. I liked his silly expression! And I decided that using complementary colors would make them pop better against the dark teal green. In collage, each color-value affects each other, and I pick and choose colors from my palette folder, taking this into consideration. As I worked, I edited and added more candy canes, something easily accomplished with collage. If worst comes to worst, papers can be added on top of others — no mistakes!
The second day while I was working on this, I decided to add a little pink bird in the corner for interest and cut out a tattoo, "noel", on the baboon's arm. The humorous touch was just the element this needed to give our Christmas character some fun. And he's holding on to 3 candy canes — he's enjoying Christmas!
The other different technique I used with this collage was to paste each animal together as a unit first, so I could position it in the best area of the design. This way I could view the whole picture as a unit instead of just having a head pasted somewhere. It worked a lot better than I thought. I also constructed a second bird in a royal blue, but decided it didn't look as good as the first bird. After I finished signing it, I applied a UV satin varnish to protect it.
Want to Buy It?
Format
Size
Price
Original

8″ × 10″

Double mat of off-white and light pink.

Print

8″ × 10″

Print

11″ × 14″

Actual image size is 11″×13.75″.

Print

16″ × 20″
*Frame and mats not included unless noted. Shipping costs are for the continental U.S. Ordering help & policies.