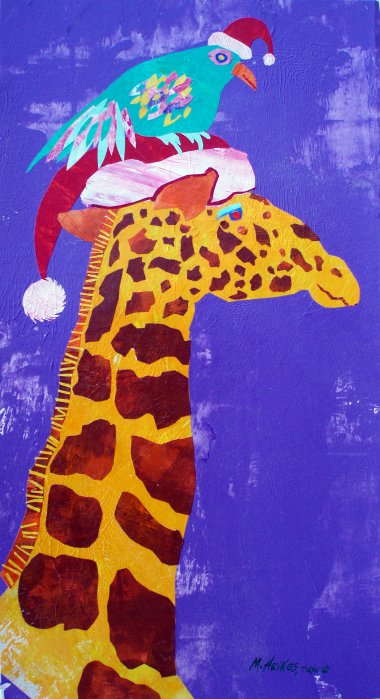 Gooney Bird & Giraffe
Acrylic collage
This is the fifth wild animal design in my series of Christmas Critters.  This is a whimsical yellow giraffe with maroon spots, a blue eye, orange ears and mane wearing a hat.  Sitting on top of his head is a teal gooney bird with an orange beak and multi-colored feathers, and also wearing a hat.  The background is a solid lavender.
Most of my ideas occur to me while I'm out walking.  I plan the design in my head, such as which animals to combine and their colors.  When I get back to my studio,  I begin by chosing the hand-painted papers from my folder and use my sketchbook for either drawing more subject matter, or using some that I've done in the past.  I edit the drawings using tracing paper.  Sometimes I change my mind on the colors because by starting with the background color, everything has to work together:  value changes, textures, and the use of  complementary colors.  I keep a pad of paper near by me while I work,  as other cool ideas occur to me for the next design. There's always a connection between the current artwork and the following one.  Many times I'll think of a really good title and work from that aspect.
Want to Buy It?
Format
Size
Price
Original

8″ × 15″

Teal metal frame (12" x 18"). Light gray and dark gray mats.

Print

8″ × 10″

Actual image size is 5.33″×10″.

Print

11″ × 14″

Actual image size is 7.47″×14″.

Print

16″ × 20″

Actual image size is 10.67″×20″.
*Frame and mats not included unless noted. Shipping costs are for the continental U.S. Ordering help & policies.