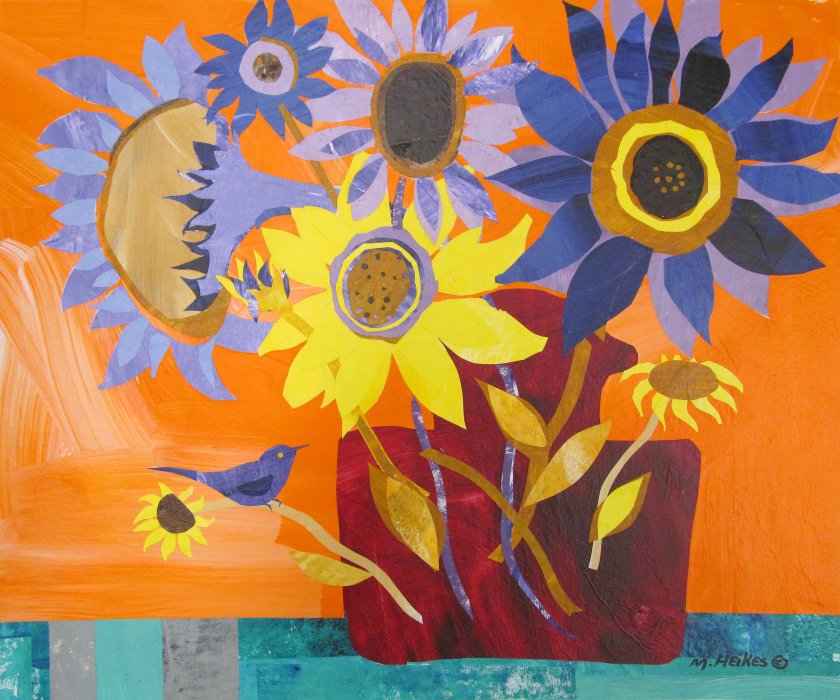 Ginger, Lemon & Orange Floral Bouquet
Acrylic collage
The inspiration for this collage was the color orange. I began with a sketch and one of my reference photos. Not wanting to be tied down to a specific thumbnail sketch, I cut out some flower shapes and let it lead me to a different direction.
Immediately I thought about complementary colors, and the shape of the water jar vase I had sketched a couple years ago. I have used that vase in other compositions because of its unusual square shape. The orange background is very warm and I chose a deep, cool red for the vase. For the petals, I chose a variety of purples and lavenders and their centers are a raw sienna, yellow ochre and soft umbers. It helps cool down the energetic orange, which is quite lively.  I decided to stay away from using greens, the local color of the stems and leaves, and used the neutral yellows.
A lot of time was spent cutting the flower shapes of the petals, making sure there was a variety of sizes and colors. I edit while working, moving the paper shapes around and tacking them with a glue stick for temporary placement. I decided early on to use the cooler violets and avoid using the pink tones. Most of the purple and light lavender papers were painted with various tones of dioxozine purple, one of my favorites.
During the process of gluing the shapes down with the acrylic gloss medium, I decided the composition needed a spark of interest. I thought about adding a little bird — that would be great on a flower stem. Recently I finished a collage with birds and hollyhocks. Many times ideas are carried over to my next piece, or a certain color gets stuck in my head. Not having planned the design out ahead of time, the end result was very pleasing to me.
Want to Buy It?
Format
Size
Price
Original

22″ × 18″

White wood frame (26" x 22.5") with white mat

Print

8″ × 10″

Actual image size is 8″×9.78″.

Print

11″ × 14″

Actual image size is 11″×13.44″.

Print

16″ × 20″

Actual image size is 16″×19.56″.
*Frame and mats not included unless noted. Shipping costs are for the continental U.S. Ordering help & policies.