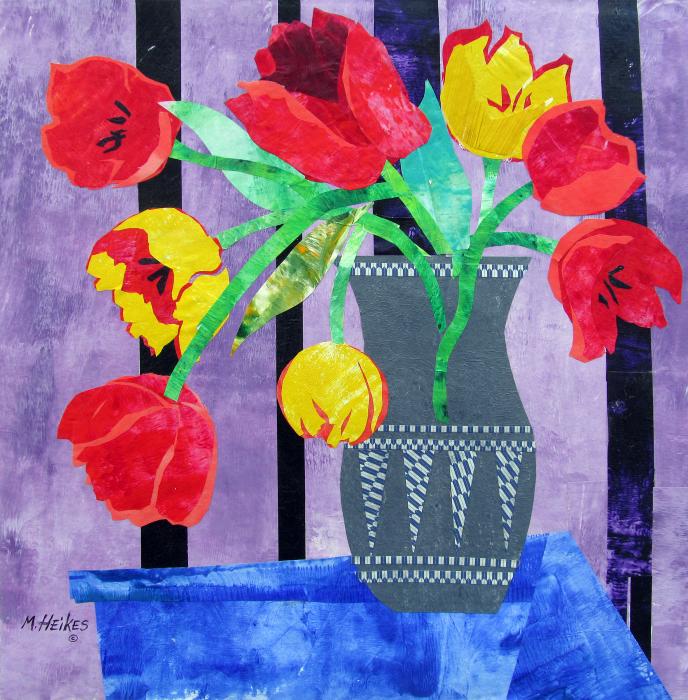 Fresh Cut Flowers
Acrylic collage
This painting began first as a watercolor. Then I decided to switch media and create a collage using bolder colors. The watercolor results were not to my liking — either in pigments or composition. I used the watercolor painting as a springboard for the new design.
Originally I worked from a reference photo of my garden tulips taken many years ago. When working in collage, I am able to change shapes and rearrange them to my heart's content until the composition is satisfactory. Even after gluing the shapes to the support, I am able to edit and glue shapes over areas I feel need changing or altering.
This design changed a lot from the initial watercolor. I changed both the color and texture of the vase, which was originally light blue to a medium gray, and added the texture of origami paper design to it. I also was quite fond of the ultramarine blue for the table instead of white. The shapes also changed while I was working on placing the flower petals of the tulips into the vase.
Editing occurs throughout my process and I allow for changes until the piece feels successful in both content and composition. I keep working and moving the shapes around to create a strong design. The square format also affects the composition — it is more difficult using the square shape, but I favor these and have done quite a few using this format; floral bouquets work well.
I actually began working with the flower shapes and thought about the background while arranging the stems, leaves and blossoms. I was undecided on the background and I had tacked the paper shapes down with a spot of glue stick which makes it easier to slip in a piece of background paper behind the flowers. Once I had all the shapes cut out, I used an acrylic gel medium to glue the shapes down. I also use paper towels to blot excess gel medium and to remove any air bubbles.
Want to Buy It?
Format
Size
Price
Original

15″ × 15″

White wood frame (20" x 20") with white mat

Print

8″ × 10″

Actual image size is 8″×8″.

Print

11″ × 14″

Actual image size is 11″×11″.

Print

16″ × 20″

Actual image size is 16″×16″.
*Frame and mats not included unless noted. Shipping costs are for the continental U.S. Ordering help & policies.