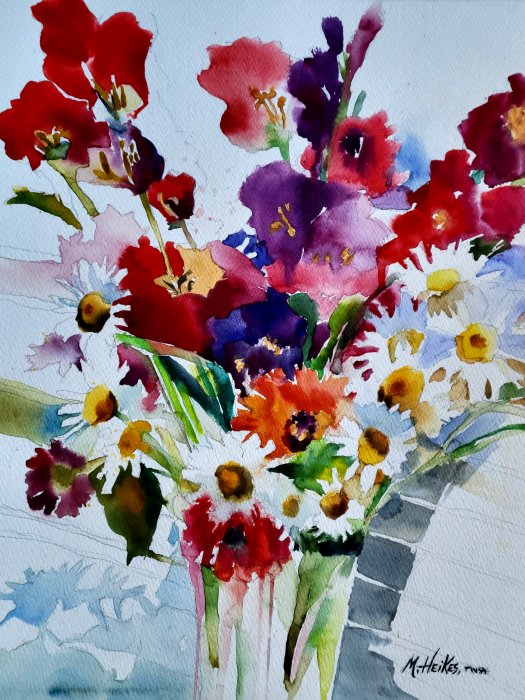 Gladioli, Daisies, & Zinnias
Watercolor
The reason I like gardening and growing my own flowers is they are great to paint as bouquets. The combinations are endless and over the years I have planted, drawn and painted a huge variety of flowers. I favor a casual composition and arrange these flowers in pleasing bouquets — full of color and different shapes that complement each other. The bouquets are always different and I photograph them to use anytime.
This bouquet combines the tall, exotic gladioli with the favorite daisies and bold zinnias. Their shapes are colorful and fresh. I start with a series of sketches and choose the best one. When beginning to paint, I choose the best pigments but feel it is difficult to duplicate the colors in nature. Usually I combine a couple reds or blues to get the local colors. I first wet the individual flower shapes and drop the pigment into the wet shape, allowing the colors to blend instead of mixing on the palette. The colors end up fresh and not muddy.
Want to Buy It?
Format
Size
Price
Original

15″ × 22″

Black wood frame (20" x 24") with sand mats

Print

8″ × 10″

Actual image size is 6.82″×10″.

Print

11″ × 14″

Actual image size is 9.55″×14″.

Print

16″ × 20″

Actual image size is 13.64″×20″.
*Frame and mats not included unless noted. Shipping costs are for the continental U.S. Ordering help & policies.